The fight over the Three Waters reforms is about to reignite in earnest in 2022 amid claims of administrative bullying, broken promises, and dodgy numbers. But all agree we need to rise higher than our global top ten drinking water quality ranking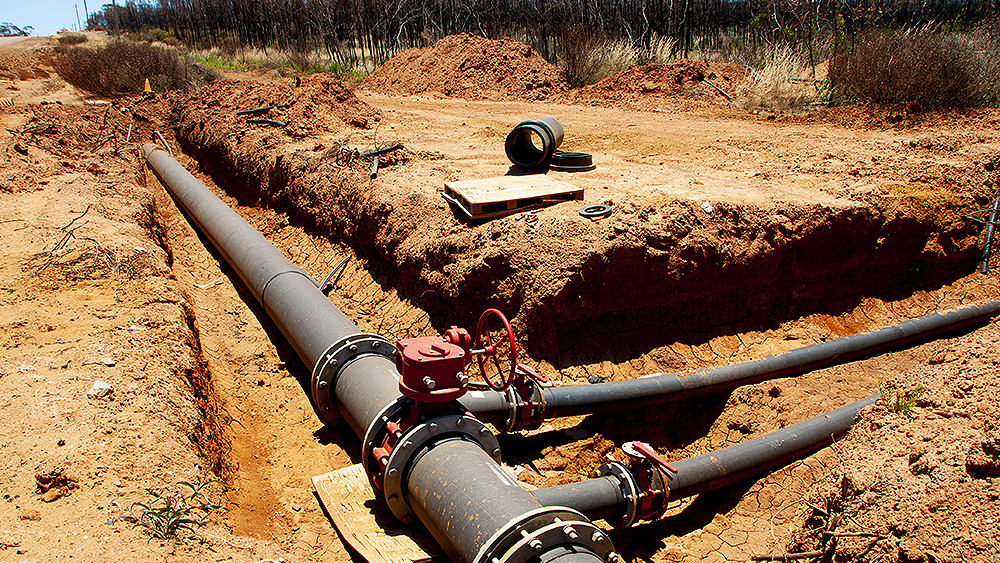 The "Three Waters" programme being introduced by the Government has become a major cause of contention with Councils, with one talley showing 61 of New Zealand's 67 councils not in favour of it in its current form, and with 24 Councils forming an action group "to bring fresh ideas to the debate'.
At the moment, no doubt as a result of public and Councils' criticism, the Government has paused the legislative process and is awaiting the return of a Working Group's recommendations. This is due on February 28, 2022 with the legislation process to re-begin by the end of March. The tight timeframe makes it look like Government is still determined to go ahead, with at least the bulk of its initial plan.
The Three Waters reform programme is being set up to provide safer and reliable drinking water, wastewater and storm water services. The Government view is that approximately $5 billion per year over the next 30-40 years is required to get water services up to the standards required and this is beyond the capacity of many local councils to afford. They also expect 6,000-9,000 new jobs to be created in the process.
When the Government first mooted the idea of revamping regulations and oversight around water it 'promised' that there would be a full consultation process with the implication that Councils input and concerns would be listened to. Councils would argue that this has not occurred. There are several issues which have concerned Councils:
A major one is the reduction from 67 entities down to four with most councils questioning the ability of these new entities to be able to efficiently and effectively keep the water systems operating.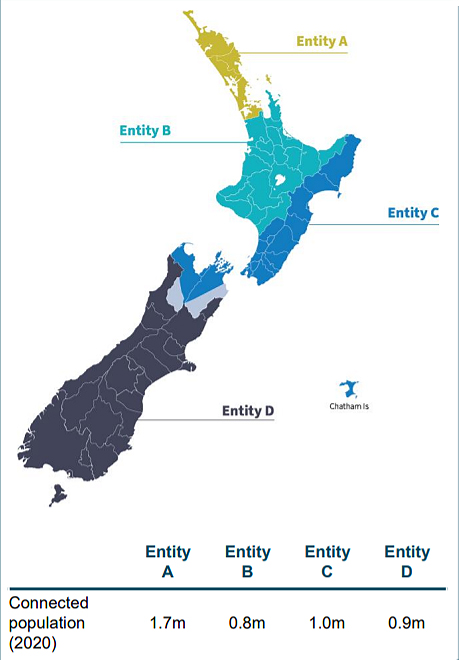 Entity C which goes from East Cape into the South Island and Entity D the bulk of the South Island have drawn the most criticism due the large and in Entity C's case the broken nature of the territory.
Some Councils have suggested that 12 entity's would be a more manageable. Councils have accepted that reform around water does need to take place but the disagree with the government over the current proposed model.
The handing over of Council-owned assets to Central Government is another issue Councils are concerned about. While assets will still be publicly owned, control will be passed over to the four entities and elected Councils' representation will be diminished. For instance, in D. (South Island) under the current proposal only 6 Council representatives will be on its board from a total of 21 Councils.
The proposed set-up as provided by the Department of Internal Affairs is shown below.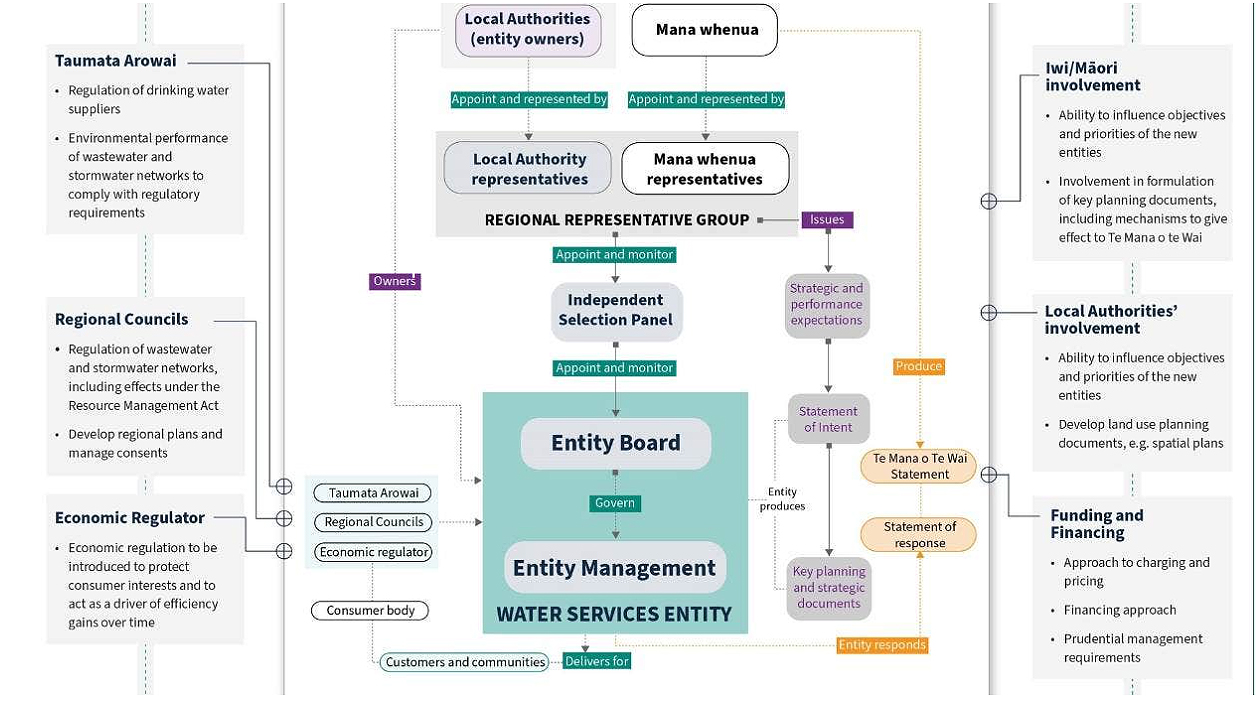 Some Councils who have bitten the bullet over time and kept their water supply and infrastructure systems up to a reasonable standard question whether there will be compensation for them when other Councils have failed to do so. The issue of equity also spreads to larger populated urban centres which effectively will be subsidising smaller (rural) centres where much of future upgrading work needs to be carried out, (Wellington aside).
Earlier last year Government had said that $2.5 bln was budgeted to allow inequities to be smoothed out. Some Councils believe this will not be adequate compensation. The graph below shows what the government believes needs to be spent ($120-$185 billion versus $45 -$85 budgeted by councils) in the short to medium term.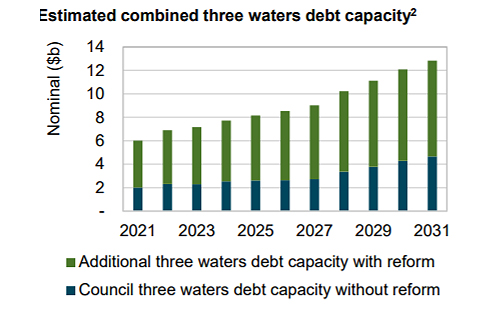 How this translates to annual user costs is shown below. Independent analysts believe some of the gains are overstated, with the Department of Internal Affairs getting some base numbers wrong.

Government believes they will be able to secure benefits by their greater ability to borrow and create a multi-generational system and they examined 30 different models, with the proposed one being the best.
The Government also says the problem is urgent with 20% of New Zealand populations receiving drinking water that does not met full compliance. Despite this, one Council highlights that New Zealand features in top 10 of 195 countries for drinking water quality.
The original incentive that this was meant to be voluntary, and that is now twisted subsequently into mandatory council involvement, a move which has also irked Councils. And the Government's high profile and expensive TV advertisements campaigning for these changes have further fuelled the impression that the Government is being disingenuous.
Federated Farmers have also held their support back mainly around issues of governance and accountability. They also question the figures the Government has put forward. President, Andrew Hoggard has said "How will the new entities ensure the needs of smaller and rural communities are not crowded out when setting investment priorities and plans?" And "The proposed arms-length governance arrangements with directors appointed by panel, which are in turn appointed by yet another panel, weaken the accountability of water service entities to communities."
Concerns over the needs of smaller communities being met is a major concern for rural water users. For instance, Gisborne District Council has 4% of the Entity C district population while Wellington has 23% but with a large Maori population Gisborne may have different tolerance of the waste water going into their harbour (history would indicate this). However, as a small centre getting their needs met may be difficult.
While things have quietened down at the moment over the annual summer break, with the Working Group providing its feedback in 5 or 6 weeks, the fuse is soon to be reignited.