Guy Trafford settled in to read the Discussion Document on changes to permanent forestry. His summary here may help you understand the issues, and get ready to submit your views. Officials seem to be listening to farmer concerns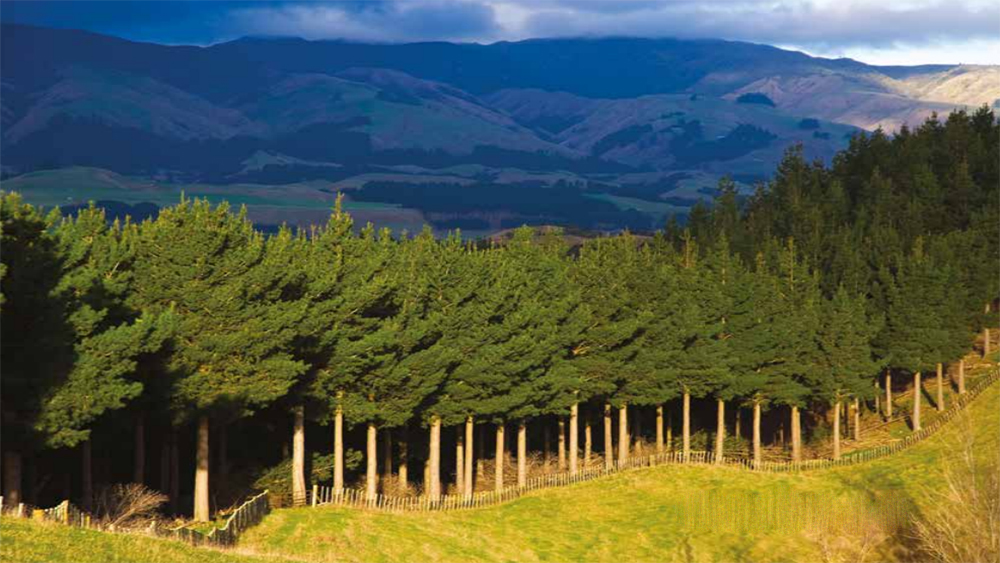 With a bit more of an opportunity to properly view the new "Discussion Document" on changes to the permanent forestry component, here is a more comprehensive summary of it.
Signed by (only) the Minister for Forestry Stuart Nash and the Minister for Climate Change James Shaw it occurred to me that two names were missing. The Minister for Agriculture Damien O'Connor and potentially Minister of the Environment David Parker. Hopefully this does not mean that the two latter names are not in disagreement as the document, from a farming perspective, does indicate that the government has (finally) been listening to some of the concerns the rural sector has been raising.
With an estimated return of $50,000 per ha based upon the 2026 ETS intervention price, even dairy farming is only being protected by the fact that sheep and beef land is considerably cheaper. An earlier consultation period on the Emissions Reduction Plan (ERP) last year received 10,050 submissions (between October – November 2021) so the topic certainly has considerable interest.
The Government has given itself to May 2022 to come up with a draft plan so some speedy responses required from this latest consultation. Submissions close at 5pm, 22 April 2022. And need to be sent to mpi.forestry@mpi.govt.nz
as a:
• PDF, or
• Microsoft Word document (2003 or later version).
As stated, the major change to the forestry component of the ETS is around the rules regarding the introduction of a permanent post-1989 forestry category to replace the Permanent Forest Sinks Initiative (PFSI). This category will reward landowners for establishing forests – exotic or indigenous – that will not be clear-felled for at least 50 years.
Feedback is required on criteria for whether and how exceptions should be provided for forests that consist of exotic species operated under certain conditions (e.g., forests established with exotic species, but managed over time with nearby indigenous seed sources to transition the forest to predominantly indigenous species).
The Government has put out three different scenarios and is asking for feed back on what is preferred and what, if any changes need to be incorporated. For those interested a second document ideally should be read in conjunction with the 'discussion document". It is an "Interim Regulatory Impact Statement" … "Managing Exotic Afforestation Incentives" and was also published earlier this month.
(Both documents are around the 36 pages, so get comfortable).
The three options outlined are:
Option One: status quo: allow unlimited exotic and indigenous registration in the post-1989 permanent forestry category.
• There are currently no restrictions on the forest species that can be registered in the NZ ETS permanent forest category.
• Under the status quo, persons registered in the NZ ETS as a participant in the permanent forest category would be able to register with exotic and/or indigenous forests.
Option Two: restrict the permanent forest category in the NZ ETS to indigenous forests, except for transfer of existing permanent forest sink initiative covenant holders.
• The Climate Change Response Act (CCRA) would impose restrictions for the permanent forest category in the NZ ETS. A new restriction would be added only allowing indigenous forests in the category.
Option Three: restrict the permanent forest category in the NZ ETS to indigenous forests but allow some exotic forests under special circumstances (including the transfer of existing permanent forest sink initiative covenant holders)
• Like Option Two, persons registered in the NZ ETS as a participant in the permanent forest category would only be able to register with indigenous forests.
Below is a table showing how the three potential options impact upon removals of carbon and their ability to meet our future carbon reduction commitments. As can be seen compared to the current system (where permanent carbon radiata pine etc. forestry is allowed) there is quite a deficiency as to what needs to be done. (Option 2 & 3 are lumped together as reduction amounts are very similar). The different coloured graphs relate to the different 'reporting periods' and as can be seen there is a considerable increase in the area going into trees (or coming out of pasture) as time goes by.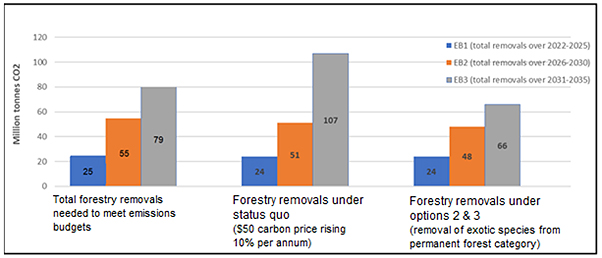 The status quo option provides several major problems which the Government now recognises.
Officials' analysis indicates that cumulative NZU supply from forestry is at risk of exceeding demand in the NZ ETS in the 2030s. The NZU price, and therefore the incentive to reduce gross emissions, is likely to be dampened in the future due to higher levels of NZU supply. A lower emissions price would reduce the incentives for gross emissions reductions and defer the cost of transitioning to a low carbon economy to future generations.
There are environmental factors to consider in relation to the planting of exotic forests. If not controlled or well managed, they can be detrimental to biodiversity if they are established at the expense of indigenous habitats. For example, exotic afforestation was estimated to be responsible for a 4,000-hectare reduction in indigenous scrub/shrubland that occurred between 2012 and 2018.
The impact on rural communities needs to be accounted for as while the gross returns from carbon may be attractive, permanent exotic forestry does little to invigorate communities.
The discussion document identifies another range of issues that will need to be dealt with.
1. How are indigenous forests defined? What happens if forest changes over time, and no longer fits this definition?
2. If forests which no longer meet the definition of indigenous forest are removed from the permanent category in the NZ ETS, how should it be done?
3. If exotic forests are removed from the permanent category in the NZ ETS, what changes should be made to the penalties in the category?
4. Treatment of exotic forests in the PFSI.
The Government also calls for input on how a long rotation averaging accounting forest category should be developed within the NZ ETS that could provide opportunities for forest owners whose land is poorly suited to harvesting pinus radiata at typical harvest ages (e.g., due to difficult terrain, slow growth rates or distance from port). As well as removing the incentives for permanent exotic afforestation, Government wants to increase incentives to plant permanent indigenous forests.
There are also issues around Māori land. Around 230,000 hectares of Māori land has been identified as well suited to forests – and could qualify for registering in the NZ ETS. Of this, at least 146,000 hectares have been identified as marginal for typical production forestry as they are far from ports. Whether the Option 3 which provides for 'exceptions' under special circumstances.
Pinus radiata grown on remote and marginal land is likely to be harvested later than other production forests, so will probably store more carbon.
Currently the Averaging accounting sets one average age for each forest type. The average ages, which are set out below, are based on the typical New Zealand harvest age for each forest type:
• Pinus radiata: age 16
• Douglas fir: age 26
• Exotic softwoods: age 22
• Exotic hardwoods: age 12
• Indigenous: age 23
These would need to change under longer rotation systems.
There already examples of longer rotation systems that could include stable carbon sinks once fully established. John and Natalie Wardle's forest in Oxford, Canterbury spring to mind as a system that incorporates both indigenous and exotic trees.
The issue around how long rotation forests need to be treated is clearly weighing on the government, the below insert lays out the questions they seek answers for: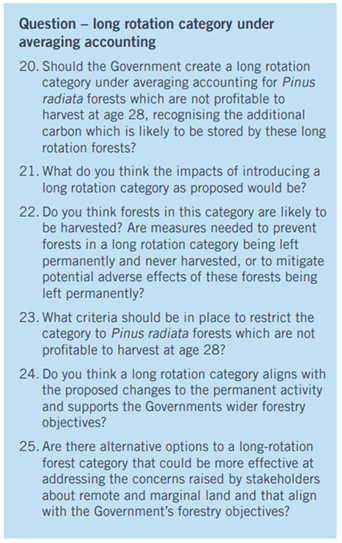 Other changes ahead are that MPI will be reviewing and updating the tables for sequestration of carbon by different forestry types in different regions. These were last done in 2008 and now dated and are likely to be superseded with new information.
There will be many who will be relieved that the Government is pursuing changes to the Overseas Investment Act 2005 to remove forestry conversions from the streamlined special forestry test.
Other specific questions the government is seeking advice on are:
1. Do you agree with our criteria for managing permanent exotic afforestation? If not, what would you change and why? Designing exceptions (option three)
2. Should we provide for exceptions allowing exotic species to register in the permanent forest category under certain conditions?
3. Are there particular circumstances that you support introducing exceptions for (for example, exceptions for certain species of exotics)? Why?
• What are the likely impacts, risks and costs of allowing exceptions in these circumstances?
• If we allow exceptions for exotic species under certain conditions, should we place additional conditions on the granting of this exception? What could these be?
4. Are there alternative ways we can recognise and encourage these forests, either within or outside, the NZ ETS? (For example, through the resource management system.)
Options to manage permanent afforestation
Of these options, what is your preferred approach? Why? Are there other options you prefer, that we haven't considered?
Timeframes
 Do you agree with our preferred approach (acting before 1 January 2023)? Why/why not? If not, what is your preference?
Comparing Option 3a (exceptions by secondary legislation) and Option 3b (exceptions after a moratorium)
Do you support exceptions by regulations [option 3a] or exceptions after a moratorium [option 3b]? Why?
If we choose to introduce exceptions by regulations, what conditions or criteria should be placed on the Minister in choosing to pursue these?
If we choose a moratorium (Option 3b) – how long should it be? Why?
Do you think a different type of moratorium (whether it requires a decision to be ended/ continued) would have different impacts? Or do you prefer a different approach?
Implementing changes to the permanent forest category
Currently the NZ ETS defines forests based on the predominant species in a hectare. However, forests change makeup over time. Do you think this definition of exotic and/or indigenous forests is appropriate for the permanent post-1989 category in the NZ ETS?
What level of exotic species in a forest would be acceptable for the forest to still be classified as an indigenous forest, and registered in the permanent post-1989 category in the NZ ETS?
If forest changes from indigenous to exotic while registered in the permanent category, do you think it should be removed from the category
(Option 1), or be treated as indigenous (Option2)? Why? Are there other options we haven't considered?
If we choose to remove forests which have become predominantly exotic over time from the category, how do you think we should do this? Why?
If exotic forests are removed from the permanent category, what would an appropriate penalty be for clearing the forest before the end of the permanent period? Do you think the current penalty needs updating?
What do you think the impacts of introducing a long rotation category as proposed would be?
Do you agree with the proposal to allow exotic forest land in the PFSI to transition into the permanent post-1989 forestry activity, or would another approach be more suitable?
What ages should be used for the long rotation category under averaging accounting
Forest Owners CEO Phil Taylor on RNZ's 9-noon believes there may be unintended circumstances of locking out permanent exotic forestry and that the time urgency (of meeting our commitments) heavily favours radiata and believes the "practical ability" of planting indigenous forest may impede progress. Radiata is the "rocket fuel" for sequestering carbon.
Time frames for the decision process is below.

As can be seen, when the detail of the problem is examined more closely the issues reveal more complexity. However, given the depth of feeling of many within the farming sector of government imposing regulations, this is a good and welcomed opportunity to have input and help shape the future.