As major flood events become more frequent, the challenge is upon us on how to respond, and a lot will depend on what we are defending. Insurance signals will play a large part in some hard decisions that need to be made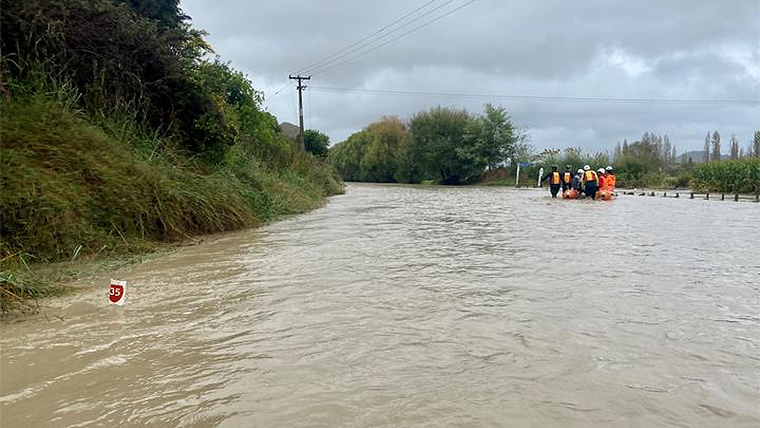 Listening to Climate Change Commissioner Judy Lawrence on RNZ's Checkpoint (March 28, 2022) speaking about the damage that has just occurred on the East Coast brought home to me just how climate's impact upon society has changed.
The headlines going back used to be about sea level rise and the impact that was going to have upon housing built too close to the sea. This risk obviously still exists but more urgent impacts are now being felt with the water coming, at least initially, from the skies above - resulting in heavy rainfall impacting upon rivers' ability to contain the water.
In the last 12 months extreme events have occurred on the West Coast, Marlborough, East Coast, Canterbury and Auckland regions some more than once and there are probably more I should have mentioned. There are plenty of map examples showing where coastlines are at risk of being swamped from climate change but I cannot recall any real detail of the risk of river flooding at a national level.
The Australian east coast flooding examples have shown just how dramatic the potential is on towns and cities plus loss of life.
The sea rise no doubt will occur but protection from rivers is looking like it is going to be far more pressing and unpredictable.
No doubt some will argue that it was a mistake to 'contain' and civilise rivers' but we don't have to look far to see examples where whole towns and cities would be at risk if catchment control and modification didn't take place. Christchurch is a classic example with the Waimakariri river's proximity and it's history of being able to flow through where a large part of Christchurch now sits.
For some time, the 1957 flood was considered to be the 'worst' in recorded history although there is evidence that at least two other events were greater in the previous 300 years.
The stop bank improvements recently completed on the Waimakariri River (2019) are meant to be able to cope with a 1,000 year flood based upon modelling. However, there are plenty of rivers which are not able to be made safer especially at what now seems a reasonably modest budget of $40 million which the Waimakariri River extended boundaries cost. Also, as the payback was to protect up to 500,000 people and over $8 billion of infrastructure, most rivers would not justify the same inputs.
Commissioner Judy Lawrence raised the point that it is probably time for some communities to now start looking at tactical retreats from building in at risk areas.
These areas at the moment include seaside areas and flood plains but it can be imagined as time progresses to include steeper hillsides prone to erosion.
The question then becomes who is going to pay for this retreat?
Insurance companies, if they haven't already, will ratchet up the cost of insurance and increasingly decline to insure. Judy Lawrence believes the cost should be borne by everyone, so central government stumps up and the taxpayer pays. This may well be the most pragmatic solution however it is highly unlikely to be popular with those taxpayers who resisted the urge to buy or build with seaside views or access to waterways. Sympathy can be extracted for those who own multi-generational houses which were built prior to more widespread knowledge on climate change being circulated.
Latterly though there is little excuse.
In less desirable areas some of these homes would have been cheaper while others likely to be more expensive with peoples' desires to view the ocean and rivers. How much push back  comes from the tax paying population will likely depend upon how the mitigation and retreats are 'sold'. Information and accompanying consultation need to start to flow now. At this stage this should probably come from local government as they will have far better access to information on where the risks lie.
Then government can come along behind withits chequebook to help mop up.
Involving local governments in the beginning should/may avoid another fiasco as has occurred with the 3 Waters Reforms. Given the high costs likely to be involved councils should welcome the government involvement however, as with all policy decisions the devil will lie in the detail.
As a retired farmer (mostly) it feels out of character discussing flooding as when it comes to climate change the increased risk of drought always loomed large and its insidious nature always put a knot in the stomach. However, drought while it erodes the soul when it is occurring does have the benefit of a good rainfall can literally wash away much of the stresses. Flood unfortunately can wreak damage that may take years to rectify.
I've always believed that our abundance of fresh water in New Zealand is a major competitive advantage, lately that 'abundance' can show that it comes with a cost.
In an earlier interview Judy Lawrence speaking to Kathrine Ryan (9 to noon) expanded on the issues councils have with the current planning issues. The upcoming review of the RMA may help align how climate change issues are dealt with.