Guy Trafford points out that land use has always changed to respond to market signals, so it will continue to evolve as future signals bite. Adapting to a more 'sustainable' use requires you to read the signals well in advance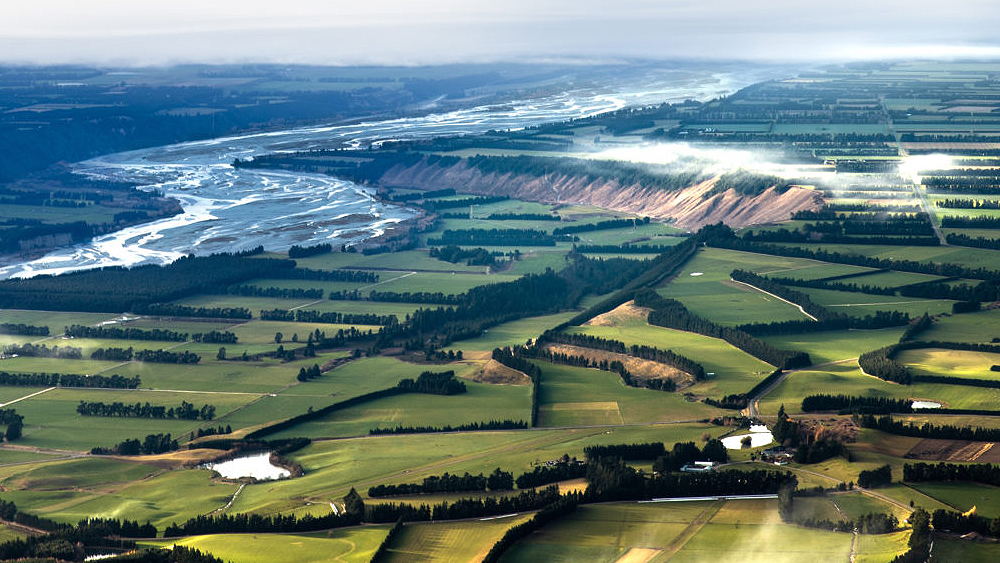 The recent discussion around land use and what can be considered suitable land use in New Zealand got me curious to look at how sectors other than livestock systems are faring.
As one thing I am well aware of is the changing nature of land use when different economics and technologies appear. A classic case in my memory banks is what has happened to the Tairawhiti/Poverty Bay flats over the years. In my early years my recollection was large areas of maize being grown with maize drying racks scattered over the landscape. (When I returned to Gisborne in the mid-1990's I spent some time with staff dismantling these and salvaging timber etc for other uses). Along with the maize, lamb finishing also took up a large amount of space.
At that time Gisborne also had a reasonably successful dairy industry. It had started as a butter based system (our then family farm was converted from butter dairy to sheep and beef in 1960) and moved into milk processing for 'town supply' with the surplus 'going through the gorge' to the Opotiki Dairy Company and beyond. However, by the 1990's numbers of farms had declined and by 2013 closed, with the blame laid at the requirement for Fonterra to supply 'cheap' milk to competitors which undercut their market and by then also the number of dairy farms had greatly declined with the land going into intensive horticulture, as did much of the arable and lamb finishing land.
Even the horticulture had cycles of vineyards to kiwifruit back to vineyards with a combination of varying crops grown there now.
Of the 17,880 hectares of flat land surveyed in a Gisborne District Council 2016/17 (January data) report there are nine different land uses highlighted with pasture still making up the largest percent followed by maize and corn.
Pasture  5,600 ha
Maize and Corn 4,800 ha
Grapes  1,700 ha
Squash  1,480 ha
Citrus 1,471 ha
Kiwifruit 433 ha
Pip and Stone-fruit 466 ha (these range from avocado to apples to persimmon to pomegranate and most things in between)
Tomatoes 207 ha (there was nearly 700 ha not long ago)
Fodder crops (chicory, plantain kale, lucerne, etc.) 488 ha
Minor crops (melons, strawberries, feijoas, etc.) 200 ha (estimate)
Nurseries  60 ha
Processing vegetables 154 ha
Unfortunately, I cannot provide data of what was on the flats prior to the, lets say, 1980's when land use change there really picked up, but my recollection is it was during the 80's when lots of different crops were tried, often out of desperation to find something that would pay the bills (we had Nashi at Matawai until wiped out by a heavy hail storm, which probably saved us from a lot of later wasted effort).
My point here is there are no sacred cows when it comes to land use and also it doesn't pay to be too fixed in your view about what can and cannot work as a productive income stream because things change.
Canterbury and Southland over the last two decades have obviously experienced widespread land use change and while they have largely remained in pasture, cows have replaced much of the sheep. However, as regulations have belatedly started to catchup with the development the expansion of dairying has not only stopped but begun to decrease.
At the national level land under dairy farming is now at a similar level to what it was 10-12 years ago. Most of the decrease in my mind is due to the increased pressure regional councils have applied over water use and runoff but also as farmers find other land uses. Taranaki was the only province to show an expansion in dairying land area.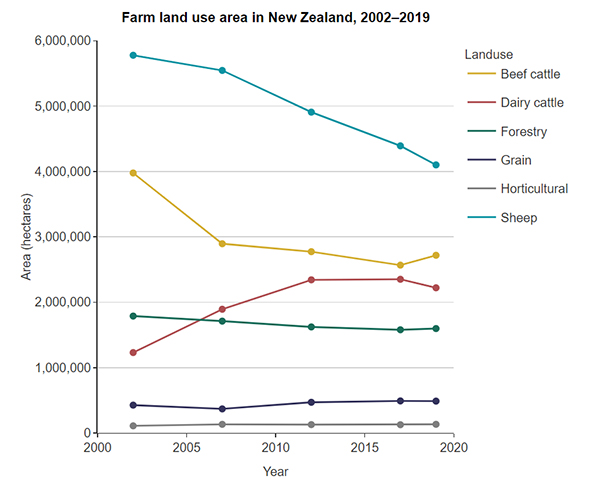 Source: https://www.stats.govt.nz/indicators/agricultural-and-horticultural-land-use (2021)
The other provinces generally have similar profiles to the national model shown above. Given that livestock systems have not had to 'pay' for their greenhouse gas emissions, the rate of change on land suitable will only speed up as and if these costs increase.
Many farmers will feel that any payment is unjust especially as most other countries do not have pay for their livestock emissions, and they have a point in my mind. The US despite signing up to reduce methane by 30% by 2030 appear to be not including livestock among those targeted to make the reductions. European countries also appear to have little in the way of policies directed to reducing livestock emissions. Having said that Ireland has a similar problem to New Zealand with 37% of its GHG emissions coming from agriculture and having also signed up to 30% reduction by 2030. It has been calculated they would need to reduce their 6.5 million cattle numbers by 1.3 million.
The quandary livestock farmers face here is that it appears any real mitigation or reduction techniques (not trees) are probably 10 years away for major reductions and the imposition of cost starts in 3 years.
So, do farmers hang in there hoping for the silver bullet (which may or not come) or perhaps a change in policy, although most of the major political parties have signed up to the reductions agreements?
Or, do they start to look at diversification options now?
Coming back to the South Island, remembering while wheat and barley are not natural to New Zealand, farmers here have managed to achieve world record production despite this. (Wheat: Eric Watson 17.4 tonnes per ha) and while the UK hold the current barley record it has also been held in New Zealand several times also.
This of course doesn't mean there will be a wholesale switch to arable farming but the options are out there when the economics start to change and it does look as though that is on the horizon. Remembering also it was only a handful of years back when dairying was suffering from poor returns and rumours of the banks foreclosing on farms was rife.