Guy Trafford notes that an 'escape to the country' may have many benefits, but staying connected via the internet may not be one of them, making WFH a dubious option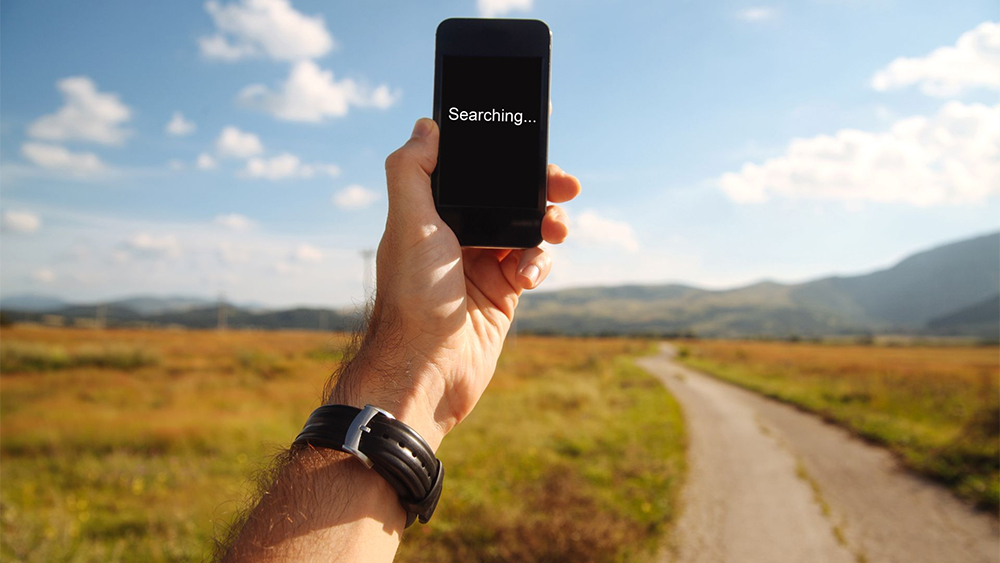 Recently there was news that the populations in both Auckland and Wellington along with the West Coast and Southland were decreasing. With a little bit of contemplation, the news should have come as no surprise.
The West Coast is likely to be due to the borders being closed and the work opportunities largely around tourism diminishing for many, as employers downsized to fit the current economics. The West Coast was the only region prior to the arrival of Covid-19 on a downward trend for much the same reasons and much of the work around the tourist trade was provided by back packers etc.
Auckland and Wellington's reductions are likely to have totally different drivers with those people who have been frustrated by commuting issues having had a taste of working from home and they don't want to give up the lifestyle benefits, especially when escaping the larger cities and moving to the regions comes with a 'down-pricing' with house values thereby reducing mortgage costs. This also adds to an improved lifestyle, at least in a financial sense.
The Wellington population, with the Transmission Gully motorway being on the cards for some time and with its constantly shifting finishing dates, which has finally occurred, has a means now to leave the city and move to the Kapiti Coast and beyond although the growth in the Wairarapa shows both sides of the island are attractive. The well-established commuter rail service also makes their decision more workable.
These transport options along with the increased ability of being able to 'work at home' for a couple of days a week mean Wellingtonians are likely to be able to keep their city jobs and get a taste of more rural living. Aucklanders are likely to be looking further afield and therefore for most it could be an all or nothing shift. I.e., all of the work needs to be able to be conducted from the home confines (or at least for the vast majority of time).
The other thing that has impacted on Auckland in particular is the lack of migrants coming into the city. New Zealand's second largest city, Christchurch, does not appear to be experiencing rural drift from the city to quite the same degree. Perhaps the benefits of a less congested vehicle system have helped, plus the lack of an extended commuter rail or bus service, as Wellington has, is also a disincentive for moving too far afield. Although when looking at the numbers (see below) the wider Christchurch region which includes Selwyn and Waimakariri districts have seen their numbers (continue to) increase by more than Christchurch.
Southland's decline which has come mainly from a fall in population in Invercargill is more difficult to explain as none of the other reasons fit their situation.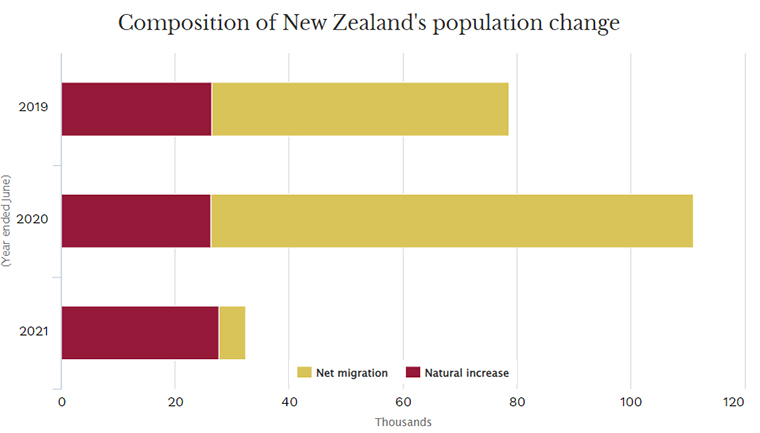 Source: Stats NZ
The headlines which came from the New Zealand Herald and highlight the movement to Queenstown aren't picked up quite as clearly in the Stats NZ numbers published last June. It is possible the Queenstown civil servant has access to more recent numbers, but while the Stats NZ sourced data below clearly show Auckland's and Southland's reductions, but Wellington is still looking to expand although the trend is down. This however appears to be largely occurring across the country with the reduction in immigration.
| | | | |
| --- | --- | --- | --- |
|   | 2019 | 2020 | 2021 |
| Auckland | 26,500 | 35,600 | -1,300 |
| Wellington | 6,700 | 10,400 | 4,000 |
| Christchurch | 8,900 | 12,400 | 5,700 |
| Queenstown | 2,400 | 2,600 | 880 |
| Southland | 1,100 | 1,300 | -120 |
Australia's capital cities have also experienced a similar trend to Auckland with a general downsizing of 72,000 moving out to the regions. If the trends in New Zealand continue, which is not what city planners were expecting, it may cause a rethink of some of the infrastructure developments. For example, close to home (Selwyn District) about 12 months ago we made decision to drop the landline and go to wifi for the computer and stick to mobile phones. Local coverage appeared to be improving and it was one cost we thought we could cut. This was reinforced by the knowledge that some time ago (2016) we read that our district was due for an upgrade in 2022. Unfortunately, the upgrade seems to have been delayed and with the increase in the population any spare wifi capacity has been more than soaked up along with cell phone coverage and we now seem to be more worse off than ever and future upgrades now due in 2024. I don't doubt that there are some places even worse of than we are but with our cell coverage is a weak 1 bar of 3G and 65Mbps of internet speed things like Zoom and messaging with the camera on are well beyond our reach. This compares to Ultrafast broadband, an eye watering 398Mbps.
So, my message to those considering a move to rural areas if they consider working 'online from home' is check out the local coverage as there are certainly plenty of areas that are well below/behind what the cities consider to be 'normal'.
MBIE have promised that 99.8% of the population will be able to access "improved broadband by the end of 2023. Unfortunately, they do not define what the "improved standard "is. The graph below from MBIE shows the current state although judging by disgruntled residents in our district the small number below 100Mbps feels optimistic.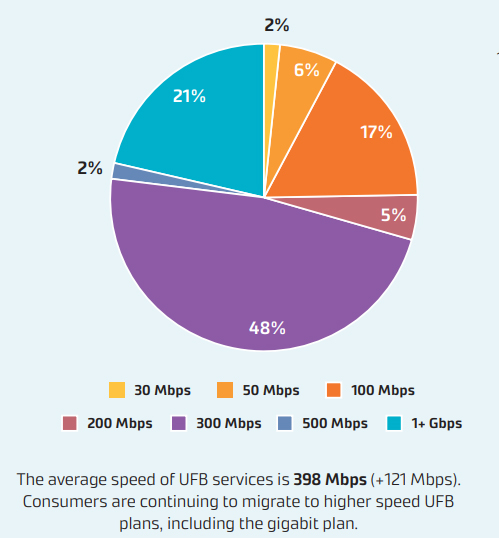 There are increasingly new options becoming available via satelites. Elon Musk's "Star Link" probably the most well known and internet speeds of between 100 -200Mbps being quoted as possible. However, depending upon where you live the setup costs are not cheap. Set up costs range from $549 to $949 for the equipment and then a monthly rental of $99 per month. The Chorus site which seem to provide a reasonable range of what is available does discuss pros and cons of the different providers and unfortunately nothing, not even Star Link, sound like a silver bullet to those desperate to improve their connection to the rest of the world.
Hopefully the government roll out does live up to their expectations - but, unfortunately, past experience won't have me for one holding his breath.