Guy Trafford digs into Nestlé's emissions goals and finds Fonterra is likely to already be their supplier with the lowest carbon footprint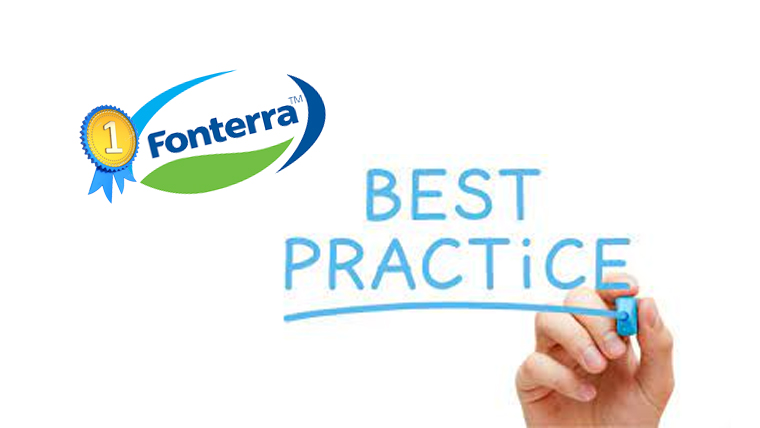 As most dairy farmers will have heard Fonterra at the request of Nestlé is looking to reduce emissions intensity (i.e. amount of carbon per unit of milk produced rather that the absolute total of overall). The call to New Zealand farmers from Fonterra is to reduce on farm emissions by 30% by 2030.
A couple of things leapt out at me having read the announcements the first was that Fonterra and Nestlé and the New Zealand government are all talking with distinctly different accents which makes easy comparisons difficult. The other thing is the lack of any discussion on what other suppliers to Nestle' are being required to do.
This last aspect could be where New Zealand farmers can achieve a distinct advantage over other suppliers, providing Fonterra can meet the requirements.
While Nestlé is reported as being Fonterra's largest customer, Fonterra is only one (perhaps the most important) of many other suppliers to Nestlé. Nestlé in its 2019 Supply Chain Disclosure Dairy Ingredients obtains ingredients from most dairy producing countries and companies including Tatua, Open Country, Synlait and of course Fonterra. As the graph below shows New Zealand dairy farmers are considerable ahead already of other competing countries.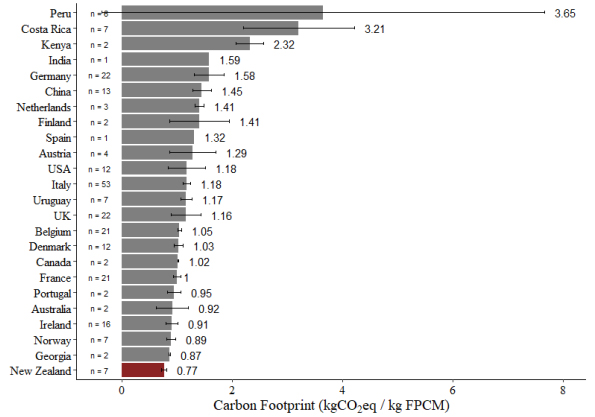 Source: MPI NZ 2021 (Carbon footprint to litres of milk to fat and protein corrected milk).
This raises the point of how will these other countries meet the Nestlé requirement?
If a further 30% reduction is achieved on the existing level with New Zealand to around 0.5 kgCO2eq, a country like say Denmark has to achieve double the reduction and the Netherlands approaching five times to get to the same levels. This is likely to be difficult, at least with current technology and as the Fonterra release shows New Zealand farmers are well advanced down this pathway.
So, I'm not quite sure where this leaves Nestlé in sourcing product from other lesser performing countries.
Back to language, the Co-operative is targeting a 30% intensity reduction in on-farm emissions by 2030 (from a 2018 baseline) which will see it further reduce the emissions profile of its products. This aligns with Nestlé goals to reduce emissions by 20% by 2025, 50% by 2030, and net zero by 2050. Currently all but 18% of Nestlé carbon footprint comes from its suppliers (farmers) hence applying the requirements of farmers for it (Nestlé) to meet its requirements.
Fonterra has a similar profile with all but 16% coming from its suppliers, hence the need for farmers to play their part.
Neither of the Nestlé announcement or Fonterra goals has any differentiation of CH4 from other carbon gases which is quite different to what the Government has put into the regulations. As a reminder for the New Zealand requirements:
are 10% less than 2017 emissions by the calendar year beginning on 1 January 2030;
are 24% to 47% less than 2017 emissions by the calendar year beginning on 1 January 2050 and for each subsequent calendar year
Farmers to begin paying for GHG emissions in 2025 (Likely to be pushed out to 2030 under the incoming National led government)
New Zealand to be at zero net emissions by 2050
The other thing this does in the New Zealand context is make the National government's stated policy of extending penalty payments for agricultural emissions out to 2030, for dairy farmers at least, almost irrelevant depending upon what baseline is implied suppliers will likely be ahead of their minimum requirements.
Of course this is dependant upon whether on farm 'real' emissions follow a similar downward profile to the milk carbon intensity profile. In an interview on RNZ Andrew Kempson, general manager of Global Climate Policy at Fonterra said the co-op was "comfortable" about the impact upon farmers bottom line. So presumably they believe that farmers can incorporate the techniques required to get the reductions at little cost (??).
In a separate article, Fonterra director of sustainability Charlotte Rutherford said in a media briefing there would be no penalties for farmers who did not reduce emissions or premiums for those that do. Which does make one wonder what it is all about? Yet just another climate change aspiration that means little and has no substance? Or will Fonterra have to rethink this if and when Nestlé start to apply real pressure.
Given the head start New Zealand farmers have on other countries it would appear Nestlé have some other 'battles' to fight before they get to Fonterra.