Guy Trafford says although an El Niño drought in northern and eastern areas is not yet here, there is much already here to worry livestock farmers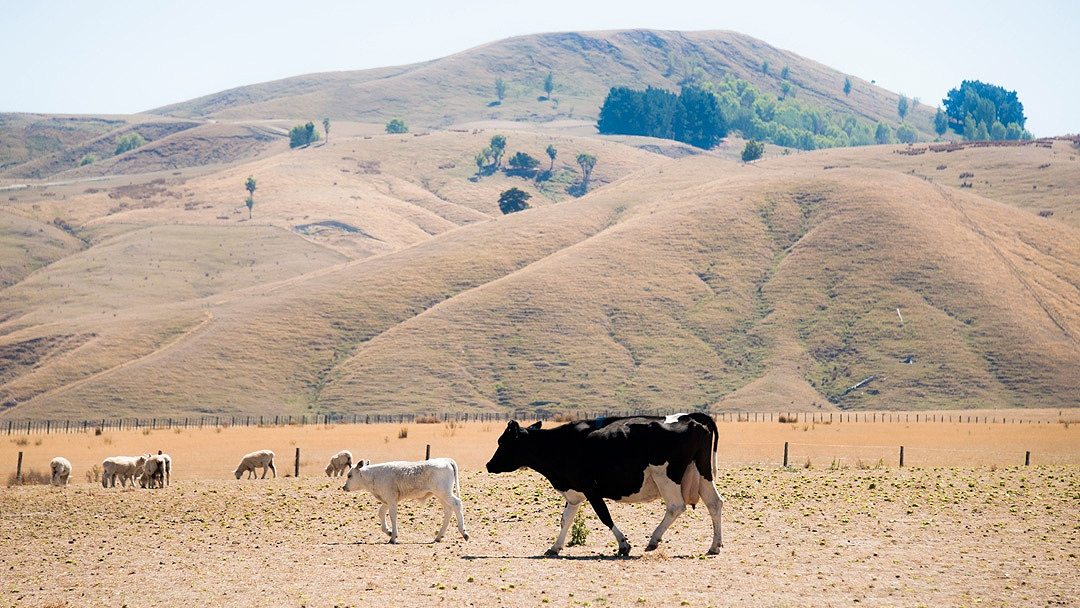 Unless something happens to the major markets, all aspects of livestock farming look set to be going through a prolonged lean spell. Most farmers on the eastern and northern regions had girded their collective loins for a tough season with El Nino being forecasted.
The good news to date is that any sign of drought is still likely some time into the future.
That unfortunately is where the good news finishes.
Farmers have known that prices are well down but now the news that the Alliance Group have posted a nearly $98 mln loss will further undermine any hope that prices are going to turn around rapidly. The loss comes on the back of last season's record $116 mln profit. Over the same period the Group's turnover was down from $2.2 bln to $2 bln, the difference effectively being the size of the turnaround from profit to loss between seasons.
The other big partially farmer owned meat company, Silver Fern Farms (SFF), which operates to a different financial calendar year, reported back in April that it had recorded an after-tax profit of $189 mln up +$85.5 mln on the previous year. However, if readers are thinking that puts the Alliance Group in a poor light, SFF said that their profits were largely due to the first half of the year being where record prices were paid and the latter part of the season "presented a stark change in market conditions". It was this latter period and up to recent times that has been captured in Alliance's latest results.
As can be seen below the average price for a 17.5kg lamb is at the lowest point by some margin and the last seen back in 2018.
Mutton has had an even steeper drop in value and while cattle prices have held better, they also are not looking great and continuing to fall.
The bad news continues over to timber as log prices have also been on a downward slope.
To really make things even more grim, in Tairawhiti Gisborne East Coast region Juken Nissho Limited (JNL) have pulled the plug on the operation there with the news that the timber processing plant is to close for good. Between now and March, 80 jobs are reported to being lost plus whatever else occurs in the affiliated areas. JNL are quoting poor demand coming out of China. This is despite Reuters reporting an injection of US$137 billion being earmarked to assist the Chinese housing and property market, which one would imagine would help lift timber imports.
JNL has two other plants in New Zealand, one in Kaitaia and one near Masterton manufacturing a "wide range of engineered wood (LVL, Plywood, Panels) and solid wood products". In total it has 40,000 ha of plantation in New Zealand of which a sizeable percent is in the Gisborne region, what the future of the Gisborne forests is, is uncertain, but it has to be assumed they will join the stream going out as logs over the Gisborne wharf.
While JNL have promoted themselves as being a highly sustainable company they were also among the group of forestry companies that were fined by the Gisborne Council over their harvesting practices. Along with JNL, the list included Earnslaw One, Aratu Forests Limited (formerly Hikurangi Forest Farms Limited), DNS Forest Products 2009 Limited and PF Olsen Limited. Another company (Forwood) has joined the list recently for practises carried out last year and have been fined $84,000 in the Gisborne court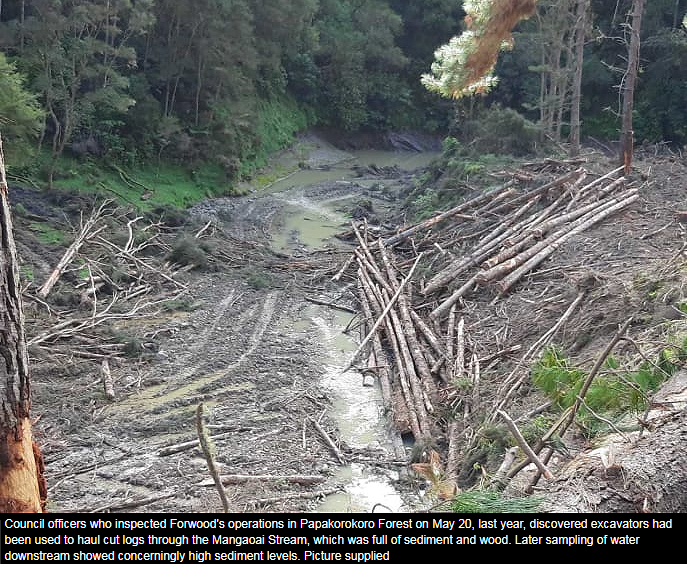 On the back of the publicised problems with companies around the Gisborne region the over body of the Forest Stewardship Council (FSC), which sets standards for responsible forest management worldwide has ordered a Canadian expert to check out the New Zealand arm of international company, SGS, (French for General Society of Surveillance) which audits forestry on its behalf in New Zealand. Many international importers require FSC as a minimum standard of proof of sustainability and this should come as a wake-up call to auditing companies who are happy to take the fees but provide little oversight - assuming of course the FSC audit does find that SGS have been deficient in their practises.
On a more positive note, SCION (Timber Research) are incentivising local technology through a competition to find a solution to the problem of forestry debris. The technology competition is open to all comers, "giving innovators, companies, start-ups and communities the opportunity to pitch their solution to the slash problem", says Marc Gaugler, Scion's head of distributed circular innovation. There is an example of the utilisation of timber waste by a Nelson company Azwood, who currently are handling over one million cubic metres of re-purposed residue and waste per year including forestry slash. Hopefully such technologies can expand throughout the country.