John Key advocates farming joint-ventures with Chinese firms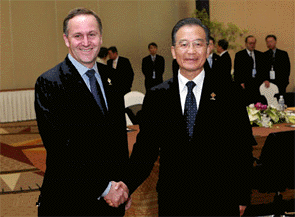 Prime Minister John Key is advocating that New Zealand set up farming and rural industry joint-ventures with Chinese firms.
The payoff for New Zealand would be deep and significant access to China's huge and growing market for one of our industries that has an international comparative advantage.
Our problem is that we have not built a savings base from which to fund the necessary investment to go it alone.
We need foreign investment to take advantage of the opportunity, and we will have to share the returns with those investors.
He said on TVNZ's Q+A program that the idea was raised in his recent meetings with the top leadership of China.
What is your view of this 'big idea' ?