MAF report shows sheep and beef farm prices vastly over-valued, assuming farms are supposed to make economic returns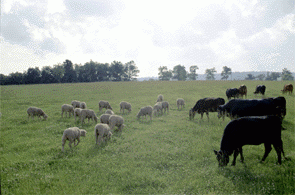 By David Chaston
MAF has released its 2010 sheep and beef farm monitoring reports and they include models and commentary for all regions.
Farmers faced with reduced discretionary cash kept a tight rein on living expenses, capital purchases and development, but the national model budget still shows very low profitability for sheep and beef farming.
In fact, farm earnings averaged just NZ$66,587 before tax and before paying for the value of any owner-operator labour. They are forecast to rise to only NZ$72,895 in 2011.
This same monitoring revealed that the average farm is being carried at a gross value of more than $4.7 million, 85% of which is the carrying value of land and buildings.
MAF is budgeting for these values to fall about 7% in 2011.
It said seasonal conditions dominated the financial performance of the sheep and beef sector in 2009/10. Mild lambing conditions resulted in a record lambing percentage but drought in Northland, Central Otago, North Otago, and South Canterbury reduced production and forced the early sale of stock in these regions.
Despite good demand for lamb the average price fell NZ$8.43 from 2008/09 and this has more than offset the increase in lambing percentage.
Cash operating surplus for the national sheep and beef model fell 12% in 2009/10, or $4.11 per stock unit, as a result of decreased income per stock unit and increased farm working expenses. It is predicted to fall a further 1% in 2010/11.
Dairy grazing makes up an increasing proportion of net cash income in both 2009/10 and 2010/11.
Interest expenses per stock unit have fallen as a result of lower interest rates flowing through to farm mortgages as they are renewed. But interest still takes more than NZ$53,000 per year of farm income on debt of some $680,000. MAF is not expecting any significant ability to pay down these debt levels.
Low interest rates (7.8% on average liabilities) enable the debt to be serviced, but a rise of 2.5% - being the expected flowthrough of an OCR going from 2.5% to 5.0% in 2011 - could pose some serious strain on farm viability.  Based on the MAF model for 2011, interest payments could rise by another NZ$17,000 per year, wiping out the expected farm surplus for re-investment, and reducing earnings before taxes to closer to NZ$55,000 per year per farm.
This monitoring shows that sheep and beef farms are not highly geared - liabilities represent only 20% of total asset values - but the very low profitability throws the recorded land values into serious question.
My view
Assuming* such farms are currently earning only one third their proper level, and assuming* a fair return on the assets employed for a business like this should be at least 15% after tax, land values may be being carried at vastly overstated levels. To achieve that 15% return, land values for NZ$3.8 million would need to be written down by NZ$3.3 million or 87% to just NZ$0.5 million.
The long term inability of sheep and beef farms to earn an average return reinforces the view that such farms are being operated for their capital gain potential.
But the prospect for these continuing must be under severe question. Not only are buyers unwilling to play that game, the potential for limits on foreigners to become buyers undercuts the market, and banks have shown a sudden unwillingness to fund highly leveraged purchases.
Land carrying values are totally unrealistic in this MAF monitoring. The industry faces the risk of a major financial shock. These carrying values have all the hallmarks of an "extend-and-pretend" blindness by an entire industry, its bankers, and its regulator.
--------------------
* These are our arbitary assumptions. Earnings are way too low when the business income barely covers a 'proper wage' for the working farmer. If farming should be a business (and the IRD assumes it is), over the medium term it should earn a normal business return.
Exactly what that is will be up for debate, but given the risks and effort required to earn a return in farming, 15% after tax seems hardly excessive.
Lifestyle goals in farming may be a valid additional benefit, but if that is the basis for tolerating current returns, then New Zealand sheep and beef farmers may better be described as a 'gentrified peasantry'.