Crafar receiver says conditional sale to UBNZ still 'on foot' despite May Wang's bankruptcy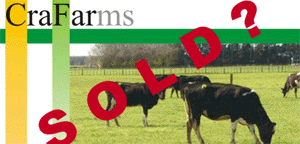 Crafar Farms receiver KordaMentha says the conditional agreement for the sale of the 16 central North Island dairy farms to UBNZ Funds Management Ltd remains "on foot" despite yesterday's bankrupting of May Wang who is fronting the bid.
KordaMentha's Brendon Gibson said the deal remained subject to Overseas Investment Office approval and he continued to communicate with the applicant's solicitors as to the progress of their consent application.
The proposed sale of the Crafar dairy farms to UBNZ and Hong Kong-based Natural Dairy for more than NZ$200 million is viewed by some in the banking community as critical to establishing a benchmark for rural asset values given the low recent volume of farm sales provides little transaction evidence to support banks' provisioning levels.
Aside from Wang being declared bankrupt, the bid also faces a further hitch. The Serious Fraud Office is investigating transactions between Natural Dairy and UBNZ based on information received from the Overseas Investment Office.
The 16 Crafar farms, New Zealand's largest family owned dairy business, were put into receivership in October last year owing about NZ$216 million to their lenders Westpac, Rabobank and PGG Wrightson Finance after interest.co.nz revealed animal welfare issues at the farms.
Meanwhile, in its bi-annual Financial Stability Report the Reserve Bank said last month farm prices may need to continue falling to see "substantial" buying interest reemerge and also warned that further falls could see some dairy farmers, who took on debt to expand during the boom times, slip into negative equity. The latest Real Estate Institute of New Zealand figures show there were just 46 farm sales in October, equal to the previous record monthly low of 46 recorded in January this year and down 42% from the 79 farms sold a year ago. The October sales included just four dairy farms.
Wang, bankrupted at the High Court in Auckland yesterday, plans to appeal the decision.