Fonterra lifts forecast milk price for 2010/11 by 30c to NZ$6.90/kg, giving total payout of around NZ$7.20/kg after 25-35c div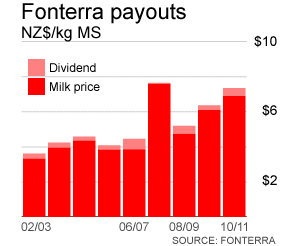 By Bernard Hickey
Fonterra has increased its forecast payout for the current 2010/11 season by 30 cents to around NZ$7.20/kg and left its fair value shares unchanged at NZ$4.52 a share.
But it warned that production in the North Island was falling because of drought, which may reduce the size of any economic windfall. Many farmers are also repaying debt, which would reduce any resulting spending in provincial areas such as Southland, Canterbury, Waikato and Northland.
A payout increase of this magnitude would normally add around NZ$360 million in payouts to farmers over the course of a season if production matched last season.
Chairman Henry van der Heyden said commodity prices had stayed higher for longer than expected. He also noted dairy production in the North Island was falling because of the drought.
Fonterra increased its forecast Milk Price for the 2010/11 season by 30 cents to NZ$6.90/kg and left its target dividend in a range of 25-35 cents per share, giving a total payout of around NZ$7.20/kg.
Fonterra's Board of Directors also announced the estimated Fair Value Share price for the next season in 2011/12 is NZ$4.52, which is the same as the current season's price, although the independent valuer had estimated a Restricted Market Value range with a mid-point at $4.45 per share, up 4.2% increase from of NZ$4.27 from May 2010.
Fonterra Chairman Henry van der Heyden said the Board's decision to raise the forecast Milk Price reflected the continuation of high international dairy prices further into the 2010/11 season.
Chief executive Andrew Ferrier said global markets for key dairy ingredients remained finely balanced, with solid demand being underpinned by some growth in supply out of the northern hemisphere.
"International dairy market prices have generally held up better than initially expected when we made the opening forecast back in late May. Offsetting this good news has been a stronger New Zealand dollar which is eroding the value of dairy export returns for our farmers," said Ferrier.
"We had a solid result at the 1 December globalDairyTradeTM trading event, with average prices 1.5% above the 2 November event. This has added to our confidence in the season's outlook," he said, adding Fonterra was reviewing the potential impact of the recent dry conditions around New Zealand on production levels.
Van der Heyden said farmers would welcome news of a higher forecast milk price, but they also faced much higher input costs if current dry weather continued.
"It is still early in the season, and some good falls of rain could help a lot, but milk production in the North Island is declining and we know farmers in some regions are struggling," he said.
'Profit at lower end'
Ferrier said although there was no change to the overall forecast profit range, management's latest estimate had moved down to the lower end of the forecast range, mainly due to the pressure on earnings from the increase in the Milk Price and the strength of the New Zealand dollar.
"The earnings impact was mostly being felt in the Commodities and Ingredients businesses, with the performance of the consumer businesses remaining in line with the previous forecast," he said.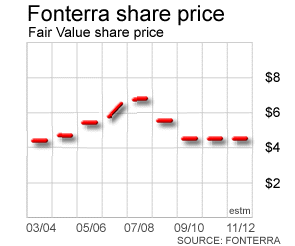 Meanwhile, Federated Farmers said production from key dairy farming areas was likely to be sharply down due to the spring drought.
"This is very good news but must be seen in the current reality of the drought-like conditions we're in," said Lachlan McKenzie, Federated Farmers Dairy chairperson.
"I think you'll find this season's production will be down sharply in the upper North Island. It also has to be remembered that the North Island is home to 77% of the nation's dairy herds," he said.
"We are also aware of farmers having to dry off stock now due to lack of pasture growth. Once dried off a cow won't produce until after they calve. So even if we had substantial rain starting today, it wouldn't materially benefit pasture growth for upwards of four weeks," he said.
(Updated with Federated Farmers comment)