Fonterra hikes 2010/11 payout forecast by 60 cents to NZ$7.90-NZ$8.00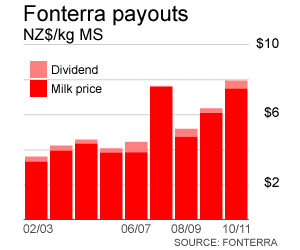 Fonterra has hiked its forecast payout today by NZ$0.60/kgMS
Each NZ$0.10 is worth about NZ$125 million of revenue to Fonterra suppliers, so this increase should add approximately NZ$750 million to the domestic economy.
See the release from Fonterra below:
Fonterra announced today an increase in its forecast Payout range (before retentions) for the 2010/11 season from $7.30-$7.40 to $7.90-$8.00.

The forecast Payout incorporates a forecast Milk Price of $7.50 per kilogram of milksolids (kgMS), 60 cents higher than the previous forecast; and a Distributable Profit range for the 2011 financial year of 40-50 cents per share (unchanged from previous forecast).

Fonterra has reduced the target dividend range to 25-30 cents per share (previously 25-35 cents per share). The dividend would be paid out of Distributable Profit.

As a consequence, Fonterra now forecasts that a 100 per cent share backed farmer will receive, on a cash basis, a total of $7.75-$7.80, with the balance of Distributable Profit being retained by the Co-operative.

Forecast Milk Price

The latest increase, combined with a 30 cents increase announced last December, means the forecast Milk Price for 2010/11 is now 90 cents higher than the season's opening forecast of $6.60 per kgMS, and $1.40 ahead of the 2009/10 season's $6.10 per kgMS.

Fonterra Chairman Sir Henry van der Heyden said the latest increase in the forecast Milk Price reflected further strengthening of international dairy prices over recent months. For example, the average price achieved at the latest trading event on the globalDairyTradeTMplatform held 15 February 2011 was 23.7% higher than the 1 December 2010 trading event which took place a few days before the December re-forecast.

As Fonterra is now entering the latter stages of the season, a good proportion of this season's production has already been sold. Therefore, current market prices only have a partial influence on the 2010/11 Milk Price, which is calculated as an average across the season.

Sir Henry commented: "This significant Milk Price increase is welcome news indeed for Fonterra farmers, many of whose farm businesses remain under pressure after several challenging years and a current season marked by some difficult weather conditions. It's also good news for the New Zealand economy and underlines the importance of dairying to New Zealand's ongoing prosperity."

Although weather conditions had affected production in many parts of the country, total milk production in 2010/11 by Fonterra's farmer shareholders was expected to be broadly in line with the previous season, Sir Henry said.

Chief executive Andrew Ferrier said higher dairy market prices appeared to be driven by a combination of strong demand from China and other Asian markets, and tight international supply due to adverse weather conditions in many parts of the world. "These higher prices have more than offset the negative effects of an appreciating Kiwi dollar against the US dollar."

Mr Ferrier said despite the impact of weather factors, global supply was still growing - although at a slower rate than previously expected. Fonterra now estimates global milk production for the 2010 calendar year grew by 1.8%, down from an earlier estimate of 2.0%.

Forecast Profit and Dividend

Fonterra has held its forecast Distributable Profit range for the 2011 financial year at $550-$690 million, which equates to 40-50 cents per share. This is despite an expected reduction in operating earnings (compared with the December forecast) related to the Milk Price increase. This reduction in operating earnings is forecast to be offset by some one-off profit benefits expected to be confirmed during the second half of the financial year. At the Distributable Profit level, the aggregate value of  these one-off profit benefits is  expected to be broadly in line with the value of one-off items included in Fonterra's 2009/10 financial result.

Distributable Profit is the amount available for distribution to Fonterra's farmer shareholders, should all the current year earnings be declared as a dividend. At this stage of the financial year, Fonterra treats Distributable Profit as equating to Net Profit After Tax.

Mr Ferrier said Fonterra's profits were primarily driven by the ability to make and sell a range of dairy products at a margin above the cost of milk collected from farmers (as reflected in the Milk Price, which is highly influenced by powder products).

In the 2011 financial year, the margin squeeze due to higher milk costs is anticipated to mostly affect earnings within the businesses that made up Fonterra's Commodities & Ingredients segment. While higher commodity prices were starting to have an impact across the consumer businesses, aggregate earnings from the consumer business segments were expected to be broadly in line with the 2010 financial year, Mr Ferrier commented.

Given the forecast decrease in operating earnings, the Fonterra Board has decided to reduce the target dividend range to 25-30 cents per share, from the previous range of 25-35 cents per share. The actual dividend to be paid for 2011 remained at the discretion of the Board, Sir Henry noted.