Fonterra leaves cash payout for 2010/11 at up to NZ$7.80/kg; sets cash payout forecast for 2011/12 at around NZ$7.10/kg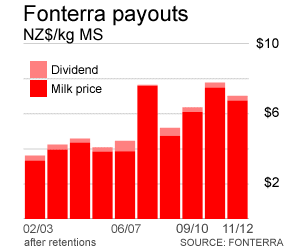 By Bernard Hickey
Fonterra has announced an unchanged cash payout forecast for the current season at up to a record NZ$7.80 per kilogram of milk solids, meaning Fonterra's payout to farmers is likely to be around NZ$10.4 billion.
This is up around NZ$2.2 billion from the previous year and is due in part to a 4% incease in production to 1.37 billion kgs of milk solids and higher commodity prices. It is not clear yet though how much of that increase will be spent in rural economies, given many farmers are focused on repaying debt.
Fonterra said its distributable profit would increase 10 cents a share in 2010/11 because of higher profitability, but that it would retain this extra 10 cents a share to boost its capital. That left its cash payout unchanged from its previous forecast at NZ$7.75-7.80/kg and above the previous record cash payout of NZ$7.66/kg in 2007/08.
Meanwhile, Fonterra announced a lower first forecast for the new 2011/12 season for a cash payout of around NZ$7.10/kg, down around 9% from 2010/11.
The cash payout includes the milk price plus a distributable profit, but minus a capital retention. Fonterra retains 25-35% of its distributable profit to boost its capital.
Fonterra left its Fair Value Share price forecast for 2011/12 unchanged at NZ$4.52.
Fonterra said its total payout before retentions in the 2010/11 year would be NZ$8.00-NZ$8.10/kg, up 10 cents on the previous forecast because of improved profitability. But that extra profitability is be retained to boost Fonterra's capital. The final payout is set to be confirmed in late September.
Fonterra said the lower forecast for the 2011/12 year reflected a higher exchange rate and moderating commodity prices.
The opening milk price forecast for 2011/12 ws NZ$6.75/kg, plus a distributable profit of 40-50 cents a share.
"When we issued our previous forecast in February, we highlighted how the margin squeeze due to higher milk costs was affecting operating earnings especially within our ingredients businesses.  We also signalled that higher commodity prices were also starting to have a negative impact across the consumer businesses," said Fonterra CEO Andrew Ferrier.
"Since February, our ingredients businesses have recovered some lost ground in terms of operating earnings, as commodity prices have levelled off and our ability to make profits above raw milk costs for other dairy product streams has improved.  On the downside, our consumer business in Australia and New Zealand has faced earnings pressure as we predicted earlier.   This business is partially absorbing higher dairy ingredients costs due to intense market competition and because of initiatives such as our decision to freeze the price of liquid milk sold to retailers in New Zealand."
Tax benefits expected
Ferrier said in spite of the very strong global commodity prices, operating earnings within the Commodities & Ingredients businesses and the Consumer Brands businesses in total were expected to be marginally ahead of 2010.  The updated profit forecast also now recognised expected tax benefits associated with projected dividend payments, retentions and one-off items.  
Chairman Henry van der Heyden said: "Although current market prices and exchange rates would still yield a Milk Price similar to this season's, recent months have been characterised by a softening in commodity prices and continued strength in the New Zealand dollar.  As commodities are mostly sold in US dollars, a higher exchange rate hits the Milk Price.  We must also be aware of the potential effect that current high commodity prices may have on dairy market dynamics, as high prices tend to encourage more supply into global markets from a number of countries."
Grant Samuel's latest valuation of Fonterra's Fair Value Share was 2% lower than its 2010/11 assessment (mid-point NZ$$4.27) and 6% lower than its interim estimate for 2011/12 (NZ$4.45 mid-point) published in December 2010.
Ferrier said the change in valuation since May 2010 was mostly due to a slight reduction in the valuation of the Commodities & Ingredients business segment, driven by the impact of higher commodity prices on segment earnings. 
The aggregate value of the consumer businesses had increased slightly over the past year, led by a rise in valuation for the Asia, Africa/Middle East businesses, partially offset by a slight decline in value for Australia/New Zealand reflecting a lower rate of earnings growth due to tougher trading conditions, Fonterra said.
See our interactive dairy commodity prices chart below