Standard and Poor's raises the spectre of big falls in commodity prices should China's economy slow significantly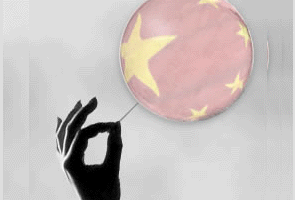 International credit rating agency Standard & Poor's (S&P) is warning record high commodity prices may represent an unsustainable bubble, subject to a sudden correction, especially if the Chinese economy is hit by a significant deceleration or downturn.
In a 22-page report entitled The Potential Risk of China's Large and Growing Presence in Commodities Markets, S&P also suggests that of China's total banking system assets, up to 40% are potential "problematic assets."
The report suggests it would be difficult to overstate the significance of China's presence in the global commodities markets and looks at the specific examples of copper, aluminum, steel, coking coal, iron ore, crude oil and soybeans, the only agricultural commodity specifically covered in the report. New Zealand has seen the prices of its key agricultural commodities rise strongly in recent months with the ANZ Commodity Price Index rising for nine consecutive months.
"We believe that any sudden and severe economic deceleration in China would cause distress in the commodities markets, forcing prices downward and leaving companies with excess supply and production capacity that the more-developed economies couldn't pick up," S&P says.
"With commodities prices having been at or near record levels earlier this year, and subsequently subsiding only modestly, Standard & Poor's Ratings Services is naturally concerned that the current situation represents an unsustainable bubble, subject to a sudden correction."
'Bubbles inevitably burst'
The credit ratings agency further notes that market bubbles inevitably burst, but are much easier to recognize with the benefit of hindsight.
"Among emerging economies, we believe China, given the combination of the size of its economy and the steep slope of its growth trajectory, has had a far more significant role in driving appreciation of commodities prices than any other country."
Possible reasons for a significant downturn in China include governmental economic policy missteps, bank system asset quality problems, and external shocks such as a global double-dip recession, a rise in protectionism, or second-round effects from a geopolitical event, says S&P. It says the specific impacts of a severe slowdown in China would depend on what caused it, including whether the causes were mainly internal or external.
S&P also points out that each commodity has its own market dynamics and industry structure, meaning the emergence of China has played out variously in each.
In the report S&P notes that;
*China's share of total world copper consumption has risen dramatically, reaching 39% in 2010, from about 22% in 2005, and China is now the world's largest copper-consuming country.
*It estimates China's primary aluminium consumption was 16.8 [million] metric tons in 2010, over taking the US to become the leading consumer, and accounting for about 43% of global primary aluminum consumption compared with only about 13% in 2000.
*China is now the world's largest steel consumer, accounting for about 42% of global consumption in 2010.
*China therefore accounts for a disproportionate share of world iron ore and coking coal demand, at 60% and 52% of world consumption, respectively, in 2010.
*Last year China was the world's second-largest oil consumer, accounting for about 10% of world demand, behind only the US, which accounted for 22%.
*China's share of global soybean imports has jumped to an estimated 58% for the 2009-2010 crop year from about 25% in the 2000-2001 crop year.
Big falls likely in 'severe' downturn
The credit rating agency suggests that in a severe downturn the following falls in market prices (all prices in US dollars) are possible:
Aluminum: $0.65-$0.70/lb, compared with about $1.20 presently.
Copper: $1.50-$1.75/lb, compared with about $4.10 presently.
Iron ore: $85-$95/ton, compared with about $170-$175 presently.
Coking coal (seaborne at mine): $100-$120/ton, compared with about $180 presently.
Steel, hot rolled coil: $475-$525/ton, compared with about $750-$760 presently.
S&P says it's harder to pick the likely floor for the crude oil price in a downturn because OPEC adjusts production levels to manage prices and a significant amount of world capacity is controlled by state-run oil companies.
"During the recession of 2008-2009, world consumption of crude oil declined by about 1.5 million barrels per day (or 1.8%), in spite of China's consumption growth of about 1 million barrels per day. In the course of the downturn, prices declined from a high of $134/barrel (West Texas Intermediate, monthly average) in June 2008, to a low of $39/barrel in February 2009. (That's a $95, or 71%, drop). We would not rule out the possibility that prices could fall to such lows again, in the event of a severe slowdown in China accompanied by downturns in the major developed economies," says S&P.
It also suggests that soybean prices could fall to less than $10 a bushel from current spot prices of about $13.5/bushel in the absence of Chinese imports.
'Credit quality of commodities producers would come under threat'
'Though such severely depressed pricing is only hypothetical, if it occurred, we would expect the credit quality of commodities producers to again come under pressure, as during the past recession," S&P says. "The most vulnerable companies would naturally be those that are already lower-rated due to such factors as lack of product diversification plus high financial leverage."
S&P says it does expect China's economy to sustain high growth rates over the next few years, although possibly not quite as high as in the recent past. China's Gross Domestic Product rose 10.3% last year.
Meanwhile, S&P also says the Chinese banking system poses risks, due to "relatively lax underwriting standards" at some banks.
"As a result of various stimulus programs, 2009 alone saw a 33% increase in domestic credit, with a significant amount of borrowing concentrated in companies owned by local governments," S&P says.
"Many of these public enterprises have weak financial profiles and undertook projects that have not been profitable. We see some risk that a sharp increase in nonperforming loans, brought on by an unexpectedly abrupt economic slowdown or other shocks, could damage bank balance sheets in China." See interest.co.nz's recent interview with Ryan Tsang, S&P's Hong Kong-based banking analyst, here.
Overall S&P puts China's potential gross problematic assets in the range of 25%-40% of total banking system assets.