Opinion: David Chaston looks at whether the global food supply can feed 7 billion people. Your view?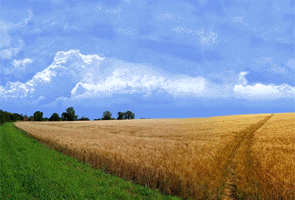 By David Chaston
The genuinely big news in the last week has been that the world's population has now pushed on up through seven billion people.
It has only taken 12 years to add the last billion, although the rate of increase is slowing and it is now expected that it will take 16 years to add the next billion.
Food supply will be challenged to keep up.
But it does seem to be keeping up - the levels of malnutrition and hunger are at their lowest levels in both relative terms ever, and the surprising thing is that they are at their lowest levels in absolute terms as well. The actual numbers show there are now about as many hungry people today as there were in 1969 when the population was less than 4 billion.
It is a monumental achievement.
It has been done at the same time we have seen dramatic improvements in living standards in Asia - both east Asia and south Asia - lower levels of hunger and malnutrition, and at the same time living standards have risen world wide.
Hunger and malnutrition rarer and real news now
And a decade ago the big worry was Africa. However rapid economic growth there has raised living standards for millions in Africa as well.
Hunger and malnutrition are real news now, precisely because outbreaks are much rarer, and we tolerate them much less. And as the FAO reports point out, it is politics and disorganisation that are now the big drivers of regional problems.
All this is in stark contrast to the 1962 predictions kicked off by Rachel Carson and the ideas in her book Silent Spring. What is surprising is how many of the warnings of the early environmental movement have failed to materialise.
A whole generation - in fact more than one generation - grew up accepting these predictions (and I was one - I was introduced to these ideas in my MBA classes by enthusiastic teachers and was won over by the compelling arguments). But two generations have passed since then and the Malthusian warnings have (so far) proven to be wildly wrong. Perhaps the actual and positive outcomes explain why people of my Baby Boomer generation are so sceptical of the religious enthusiasm of todays sirens - in the 1970's we heard, we believed, but the prophecy was false, so we are now sceptics when we hear the 'new' (= very similar) updated prophecy.
The challenge to keep the food supply growing is not a new one - it is one that has been largely met over the past two generations - and there will always be valid questions about whether it will keep up in the future.
Despite the recent GFC price rises, food prices have more than halved since 1961, only gaining back a relatively small portion in the past few years. It is this latest recovery, however, that is fueling the massive rise in food output.
GE drives rise in production
The immediate prospects look satisfactory, mainly because the world is embracing genetically modified crops. A few western countries have turned their backs on the technology, but countries that have adopted it are seeing significant double-digit rises in production. It is this output that is feeding the millions of new citizens and allowing them to raise their living standards.
2012 crop outputs for corn, wheat and soybean look like they will come in at all-time records. Brazil, Australia, the US, and Europe all appear to be headed for record-breaking seasons for grain output.
It is interesting that the really big increases in food production are coming from cereal crops rather than livestock or fish. (Perhaps the future is vegetarian.)
For New Zealand, there is obviously a 'GE-free' market niche. But it does mean our output will always be aimed at small sectors in rich western middle-class markets, and our output won't have any significant impact in meeting the global challenges of food supply and rising living standards. That responsibility falls to others who will do the real heavy lifting in research and production.
New Zealand is a spectator in this mammoth and globally important task.
What number are you? The BBC has a nifty calculator that tells you what number in the 7 billion you are.