By Bruce Wills
Earlier this week, Federated Farmers received an email from an exporter. It was looking for us to support the Manufacturers and Employers Association's John Walley, in trying to change monetary policy.
The email said the "NZ dollar [was] being traded like a cheap Vegas Casino" and that "there are policy options that can lower the currency, currency should be a policy target".
Coincidentally, the NZ Herald's Brian Fallow, published a column mid-week with the headline, "Monetary policy needs mates".
Federated Farmers may not be a close mate of monetary policy, but we are on friendly terms.
Eight years ago, in 2004, exporters faced a Kiwi dollar that was US$0.67 in January but ended the year at $US.71. Nowadays, the dollar has an eight in front of it and the markets speculate a nine, if not parity, may be on the cards.
Don't get me wrong, that high Kiwi dollar hurts me like billy-o.
Yet as one exporter to another there is much more than monetary policy involved.
We know from experience that we cannot take on the world.
Nor should we start pumping out five dollar notes because that is a race to the bottom.
If you excuse an uncharacteristic bluntness, you are dreaming if you believe our Reserve Bank can set and then defend the exchange rate against all comers.
Instead of the 'love that dare not speak its name,' we have a "policy choice that dare not speak its name" and that choice is fiscal policy.
This is about the size and choices government makes in spending our money.
Until government reins in its massive spending and borrowing, any intervention in the dollar would be ineffectual and worse than futile. 
Government policies need to focus on making our economy more competitive and productive and we need to be as one-eyed on that score, as any committed Canterbury rugby supporter.
Fine words you may say, but what does this really mean?
As a country and farmers included in this message, we need to stop living well beyond our income.
The main target for this message is government centrally and locally. We need to tackle how and what government is spending our money on well before taking an axe to monetary policy. We can add to that the quality and quantity of regulation too.
In 2000, when Sir Michael Cullen delivered the Budget, central government expenditure stood at $34 billion. Eleven years later and Bill English presided over $73 billion.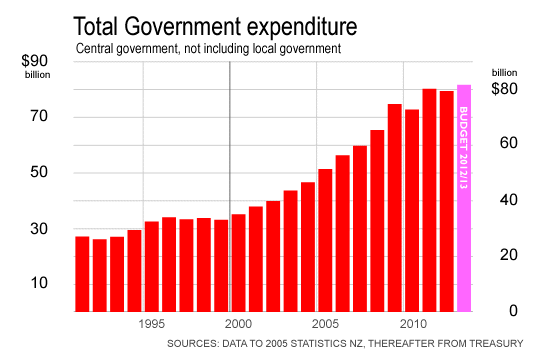 Right now, core government spending makes up over a third of the New Zealand economy but once you add in local government's $8 billion, that pushes the government sector to over 38 percent of Gross Domestic Product.
If we just take the local government sector since 2002, its spending has surged by 119 percent, the rates take has increased 95 percent and debt has quadrupled.
So here is one test. Are local services twice as better?
Like local government's "four well-beings", our politicians in Wellington find it hard to say 'no' to increased spending.
Then again, if you don't feel the burn in the form of a high dollar but get the spending benefit, is it no wonder?
So here is a 'what if' and a huge one at that.
Imagine if central government spending had grown by just the rate of inflation plus population growth. Instead of a $73 billion budget last year, Bill English would have announced a $56 billion one; $17 billion less.
Take that approach back in time to the Clark-Labour Government then over a decade, $100 billion dollars would have been left in the wider economy.
That is one mighty buffer against the kinds of natural shocks we encountered in 2010 and 2011.
To say we are disappointed in the quality of this debate is mild.
At no stage are politicians and lobbyists questioning the size of government. National knows it ought to do better reigning in government spending but frets over the political fall out. Labour ought to be playing the role of responsible government in waiting but is backing one spendthrift policy after another. As for NZ First, we would hope they will support the Public Finance Fiscal Responsibility Amendment Bill. Languishing on the order paper for want of a first reading, this Bill carries a range of amendments vitally important to better fiscal policy. It includes ensuring public finances have regard to the impact upon monetary policy.  It won't be top of mind down at the pub and nor is it as good as Rodney Hide's Spending Cap Bill, but it is a fundamental first step towards slowing a run-away spending train.
The quality of regulation is also critically important.
How many export dollars will be lost and how many export jobs will be destroyed if Horizons Regional Council type policies spread to other parts of the country? 
We need to understand that money benefits the environment by making the impossible, financially possible.
The economy and the environment are flipsides of the same coin and we need to remember that.
It is also why a Regulatory Standards Bill with teeth is needed to change the culture of government at all levels.
I suggest those clamouring to change monetary policy need to take a deep breath and look in the mirror. It seems they want to collectively blame the Reserve Bank Act instead of imprudent spending and poor regulation. We need to sort those issues first before taking an axe to monetary policy.
Perhaps the answer is for each council and each Member of Parliament to have a bust of Ronald Reagan containing ten of the most dangerous words in the English language, "Hi, I'm from the government and I'm here to help".
-------------------------------------------------------------
Bruce Wills is the President of Federated Farmers. You can contact him here »