Bruce Wills says improving water quality in Lake Rotorua and good fish stocks in the Manawatu River shows that benefits are building from community water quality gains. Your view?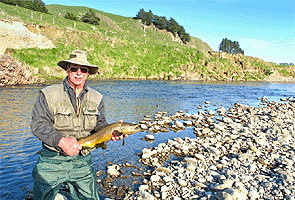 By Bruce Wills
According to Fish & Game's Wellington Manager, Phil Teal, employers should have been on sickie patrol from Monday, since that signalled the start of the 2012/13 sports fishing season.
What is more, according to Fish & Game, rivers such as the Waikanae, Otaki, Hutt, Ruamahanga, Manawatu and Rangitikei will be running clear and apparently this is ideal for trout fishing.
If trout is the canary of our waterways - though I would prefer native fish instead - then Fish & Game's "recent monitoring has also shown good numbers of trout in the rivers, so prospects are looking good…Wellington, Wairarapa, the Kapiti Coast and Manawatu have world-class trout fishing opportunities right on the doorstep – these regions have a growing reputation for quality river fishing".
Wait a minute.  Did I see the Manawatu mentioned?
Does this mean that river and its region are looking forward to a bumper fishing season?
What does this bullish outlook for trout mean then for the overall health of waterways in the Manawatu?
This was not the only surprise either.
Against all odds, or at least the scientific models, Lake Rotorua's water quality has improved.
The latest water testing by Bay of Plenty Regional Council returned average water quality. To be boringly precise, the Trophic Level Index (TLI), which measures the amount of nutrients in the lake, has continued to fall.
Against a scale of less than two being very good and more than five being pretty poor, Lake Rotorua returned a 4.1. That makes the river decidedly average, but in the time it has taken to get there, average is a pretty excellent result. Especially now it is below the 4.2 target, which the regional council had previously set for Lake Rotorua.
To me that is a positive step forward.
It comes at a time when councils are reporting much improved compliance by farmers up and down the country.
It remains instructive that Bay of Plenty Regional Council's original modelling said things were going to get worse before they got better. That brought media criticism about farm practice and is perhaps the concern I have for other areas now going down this track.
Models are one thing, but they are not fool proof guarantees without being put alongside practice. Neither is what you read in the papers. This is something my Vice-President, Dr William Rolleston, learned when he saw some indignant letters appearing in newspapers. It related to that most touchy of subjects, genetic modification but the comments attributed to Dr Rolleston were not in fact said by him.
Instead, he was quoting Dr Clive James of the International Service for the Acquisition of Agri-biotech Applications. It was Dr James and not Dr Rolleston who said the delay of genetically modified technology, like Vitamin A rich 'Golden Rice,' was a crime against humanity.
Strident words indeed, but when you consider there some 250 million preschool children who are vitamin A deficient and between 250,000 and 500,000 of them will become blind as a result, you can understand why Dr James was blunt. Yet the uncompromising words he chose can be explained by the 1.9 to 2.7 million preventable child deaths caused by VAD, or Vitamin A Deficiency.
Perhaps the misquoting of our Dr Rolleston highlights why we need to question assumptions.
This is why Lake Rotorua's improvement is not down to just one good year.
We know that because the trend is an improving one from doing things better. I am not just talking about our farms but our communities too.
Rotorua District Council boldly moved to the land based treatment of its human and industrial sewage. This is a big step forward because the status quo for many councils remains our rivers or the sea.
Farmers, likewise, got the message to improve practice and have moved to fence off stock, focus on erosion and to capture nutrients, later recycled back to farm pasture as liquid fertiliser.
Farmers are not going to take all of the credit here because farming was never the entire problem.
It is however a triumph for the whole community according to Neil Heather, Federated Farmers Rotorua-Taupo provincial president. He should know because he lives close to Rotorua on the iconic Paradise Valley Road.
I know from speaking to our members there, we have found some eye-opening things.
We now know gorse can leach some 50 kilograms of nitrogen per hectare and that is more than most dairy farms.
Even pine plantations generate four kilograms per hectare each year and these show how varied the effects on water can be.
Like quality wine, good things take time but I believe we can and are incrementally getting better.
Rotorua is simple proof of what happens when the whole community, town and country alike, work together. 
-------------------------------------------------------------
Bruce Wills is the President of Federated Farmers. You can contact him here »