Bruce Wills points out the double standard of those wanting to protect manufacturing jobs while pushing to tax agriculture more heavily. Your view?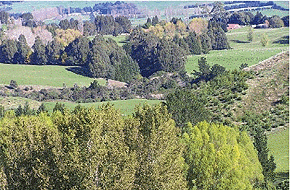 By Bruce Wills
When it comes to the Emissions Trading Scheme (ETS), perhaps quote of the week came from Jan Wright, the Parliamentary Commissioner for the Environment.
Speaking recently onTV3's The Nation, Jan Wright corrected a popular view among the media when host, Rachel Smalley, said farmers were exempted from the ETS.
Jan Wright replied,
"New Zealand is in an interesting position because half of our greenhouse gas emissions are from agriculture, which is unusual among developed countries, but I am actually less concerned about agriculture than I am than these heavy industrial emitters and that's because the agricultural gases are different. It is difficult and there are challenges there ... I say agriculture should come in but I don't have the same problem being generous to it ..."
It is a shame Jan Wright's generosity is not shared among commentators.
She recognises agriculture is not sitting on our haunches doing nothing while paying the ETS just like everyone else.
This in fact lies behind a media appearance this week when my ewe 'Jackson' gave birth to quintuplets; the 'Jackson Five'.
Three lambs are common, four are rare but five is very rare, it has been a quarter of a century since I last saw that number born to a single ewe.
Yet what may appear as a cute media story is the reason why we have reduced our carbon intensity as an industry.  New Zealand's farms are producing more lambs, more dairy and more fibre from dramatically less breeding stock. That is efficiency for you.
It means we can put lamb into a London Marks & Spencer for less carbon than an equivalent lamb from the valleys of Wales.
As the global population reaches stratospheric proportions, farmers around the world cannot believe the ETS we have here. Not just farmers either I wager.
The people of France would find the taxation of primary food unacceptable as would the peoples of Canada, Japan and for that matter, the United States.
My Vice President, Dr William Rolleston, who was on The Nation panel, made the sensible point that if you drive production overseas to less efficient economies, you simply export emissions too. Worse, instead of steadily reducing emissions as we have done for the past 20 years, more emissions in every unit of production would be the result.
I believe Jan Wright was more relaxed about agriculture because of all the sectors in New Zealand, we are the one committed to finding solutions.
Farmers are direct funders of agricultural green house reduction research and New Zealand leads the world. But we are not only following but delivering results. As each year passes, we reduce carbon in each unit of output by between 1.3 and 1.8 percent.
On of the reasons our current ETS fails is because not one tree on my environmental award winning farm qualifies and that speaks volumes about it.
While agriculture is said to account for half of all our emissions, we are counting only a fraction of what farmers do to mitigate things. You see under the ETS' rules, forestry land is defined as being at least one hectare covering more than 30 percent of each hectare. If the average width of a forest is less than 30 metres, it does not qualify.
It means most riparian plantings, erosion control and shelterbelts count for nought in the eyes of Kyoto forestry. They count for a lot in my eyes. Those trees still soak up carbon.
At least I was encouraged by the words of Labour's Moana Mackey.  She acknowledged what many media don't; agriculture is not exempt from the ETS as farmers pay for our fuel and electricity just like everybody else. Where we disagree is the cost. Labour plays down the cost but that does not accord with alarming numbers produced by inputting data into Lincoln's carbon calculator.
This state of affairs doesn't just apply to us.
In 2009, the incredibly sharp Chris Hipkins MP said, "... the people in my electorate want to know why they should pay higher taxes or have a lower level of public services, so that the big emitters, such as Rio Tinto and its Canadian and Chinese owners, can make a larger profit and be subsidised by the Government for their emissions".
In my mind you cannot cry foul over a crisis in manufacturing and call to protect Tiwai Point, while pushing for emitters to be enrolled in the ETS.
If you want to close down Tiwai Point then the ETS is a sure-fire way to do it.
On The Nation, the Green's Kennedy Graham said Sweden had cut its agricultural greenhouse gases by ten percent and this seems true. Yet the how is instructive.
My counterpart at the Swedish Farmers Federation, Helena Jonsson, conceded in an interview that Swedish agricultural output has been falling by 2 percent each year.
For a nation that has a green perception, this month she candidly told the International Federation of Agricultural Journalists that there is no proof the 'greener approach' is more profitable to be sustainable. Helena Jonsson warns us that domestic compliance costs have made Swedish agricultural goods less competitive to cheaper imports.
It is a warning about believing your own propaganda on what is New Zealand's true 'reputation risk.'
-------------------------------------------------------------
Bruce Wills is the President of Federated Farmers. You can contact him here »