The Reserve Bank of New Zealand has highlighted a worsening of the indebtedness of some of New Zealand's biggest dairy farms, pointing out more than a third of the debt was held by dairy farms that were unprofitable at current dairy milk payout levels.
Dairy debt rose from NZ$11 billion to NZ$24 billion between 2003 and 2008 as a rise in expected milk payouts and a surge in farm values encouraged double digit lending growth by New Zealand's big four Australian owned banks.
The Reserve Bank said in a special section of its half yearly Financial Stability report almost half of this debt was held by the most indebted 10% of farmers, many of whom had invested heavily in buying out neighbours and converting sheep and beef farms to dairy farms.
The special section concluded by saying: "The dairy sector appears more vulnerable to a sharp decline in the payout than at the time of the peak in dairy prices."
"Aggregate debt is higher now than it was in 2007/2008, and a slightly greater proportion of this debt is now held by the most indebted portion of farmers."
"Declining farm land prices have eroded the equity buffers of indebted farmers, implying that banks would consider foreclosing on a larger proportion of farms if the payout fell sharply and was expected to remain weak."
The central bank said overall debt levels relative to production had declined since then 2008, but the stress for the most indebted farmers had become more intense.
"These aggregate debt numbers may disguise a change in the debt position of the most leveraged farmers," the bank said, pointing to an analysis it had conducted of DairyNZ's annual DairyNZ Economic survey.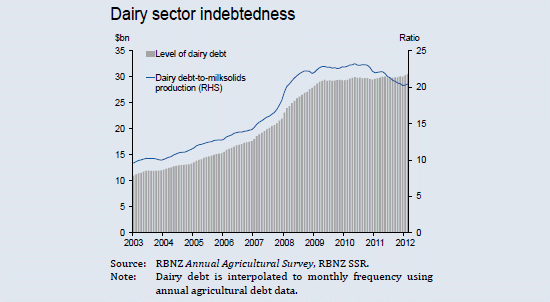 The analysis showed a marked increase in the loan to value ratios of farms because of a 20% fall in dairy farm prices between the 2007/08 season and the 2010/11 season.
"The proportion of debt in high LVR buckets has increased significantly, which is likely to make banks less comfortable forbearing on troubled operations," it said.
The distribution of dairy farm debt in the 80% plus LVR 'bucket' had risen from around 7% in 2007/07 to almost 30% in 2010/11, the bank said.
Some farms were actually more vulnerable to a drop in dairy payouts than they were in 2007/08.
The bank estimated 36% of dairy sector debt was held by farms with negative cash flow at the current Fonterra payout forecast of around NZ$5.70/kg.
"This would increase to 64% of debt if the payout fell sharply to NZ$5/kg."
If the payout fell to NZ$5/kg, about 22% if dairy debt would be held by farms operating at a loss and with LVRs of above 80%. That compared with 4.4% in the 2007/08 season when the payout slumped.