Lamb prices fall as processors react to last years unprofitable pricing and the reluctance of European customers to pay more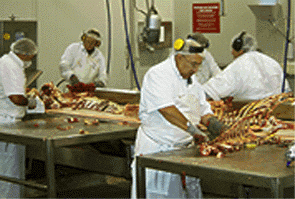 LAMB
More readjustments in schedule pricing for the new season saw indicator prices fall as processors react to last years unprofitable pricing and the reluctance of European customers to pay stronger prices.
Cooler weather has seen weights back a kilogram for early season southern lambs and some killing at lighter weights from dry eastern north island areas.
The first significant parcels of store lambs were traded at Stortford saleyards and sold between $48-$81 with an average of $67 per head.
Alliance lost $50.8 million and Silver Fern Farms $31.1 million last year, mainly as a result of lamb's sharp fall in value and demand, and this will be a large cost for all in the sheep sector.
WOOL
The latest South Island auction saw prices ease for most indicators and passings rise.
After a steady period of about three months of small steady increases for cross bred wool producers will be hoping this momentum will continue through the period where main shear volumes increase and the weather affects the quality of product offered.
Wools of NZ prospectus is looking for only $10 million of marketing capital from sheep farmers but may struggle with the downturn in sheep revenues, and will look at the predicted oversubscribed $500 million Fonterra float with envy.
BEEF
The flat period continues with some easing now in export schedules for both prime and bull beef and exports into Korea and Indonesia in the past season were well down.
There is still optimism for beef prospects but it still seems yet to show in finished beef prices although quality young store animals are fetching firm levels at saleyards.
Bobby calf numbers have seasonally fallen but weaned dairy beef sales are now starting in earnest and attracting strong bids.
DEER
Another large readjustment in this week's venison schedule, driven by caution from importers in an uncertain European economic climate to buy and store New Zealand's frozen venison.
The first animals were harvested recently from the deer progeny test as the industry seeks to identify the best growth rate genes to match the "heavier and earlier" venison goals.
Older animals velvet harvesting is now in full swing but early season market pricing is still unclear at this early stage.
DAIRY
While NIWA predicts summer weather to follow normal patterns present conditions are marked by cool overnight lows and lack of consistent sunshine that has limited grass growth potential.
Pasture quality is reducing as plants are starting to shoot to seed and managers skills in manipulating rotation length and feed conservation will important to drive production forward.
Calf weaning and main herd mating are well under way with 90% submission rates in three weeks an achievable goal for top herds. Many areas have reported production ahead of last year but falling as the cooler October early November bites.
Dairy prices via the auction have been trending upwards since August and present European prices are ahead of Fonterra's predicted payout level and give farmers hope for future upside. A significant percentage of farmers will need that market lift as the Reserve Bank Governor reported that farm debt for this group is uncomfortably high and they are vulnerable in a payout fall to a severe loss in equity and possible foreclosure.
Interest in the Fonterra Shareholders Fund is predicted to be oversubscribed and traded at high levels as the investment sector is keen to participate in the dairy expansion.