Dairy farms produce record milk levels in year to September; growth expected to slow from here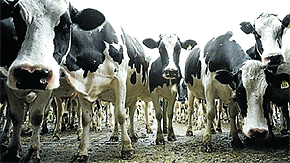 As the new dairy season builds, annual milk production has broken through the 20 million tonnes level for the first time ever.
The latest data for the dairy milk production shows the new 2012-13 season starting off with record volumes.
DCANZ is reporting that September 2012 milk production was 2,436,000 tonnes, a rise of 5% over the 2,319,000 tonnes produced in September 2011. (The rise in September 2011 was +12.5%.)
For the full year to September 2012, 20,047,000 tonnes of milk were produced, and that was 9.8% ahead of the 18,261,000 tonnes in the previous full year.
The milksolids equivalent from those September milk tonnes collected for processing were 197,308 tonnes, up 5.2%. Milksolids is the sum of the total milk protein and fat.
August temperatures and pasture growth were ideal for a good start to the season. However, the later cold spell slowed things somewhat in September and the 2012 increase was significantly less than the increase in the same period last year. NZX Agrifax is forecasting a slowing trend.
Australia as already reported its October milk production and that is lower than the equivalent month a year ago. The only region to show an increase was NSW.
In the US, they are reporting lower inventories of dairy products in October.