Bruce Wills gets excited about the positives for our agriculture despite recent efforts to talk ourselves down. He also likes the 'Scale up or Die' message. Your view?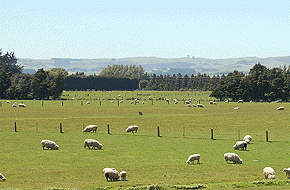 By Bruce Wills
A few weeks ago I wrote about a major American newspaper penning a piece on New Zealand. This week it broke in the International Herald Tribune, supposedly blowing the lid on New Zealand's 'clean green 100% Pure' brand.
Sometimes, it can feel as if you are a lone voice, pointing out that when you look at what we do and how we do it, we are way up there in terms of environmental performance.
That New Zealanders don't do moderation is evident in the comments extracted by the journalist.
I won't go as far as the email Mark Unsworth sent to Russel Norman about Massey's Mike Joy. The one that ended up on Facebook quickly followed by the NZ Herald, but what Unsworth penned will have many in the Horizons Region nodding in agreement.
It seems we delight in telling anyone who will listen just how bad we are.
The larger the stage the wilder the claims as 3News can testify to. Do we genuinely delight in misery as a people?
I tend to believe that for all of our faults and we do have them, we do more good in this world than bad.
Reflecting on how much coverage an American journalist in Hong Kong got writing about New Zealand, I was struck by the paucity of coverage when agriculture does well.
Take Dr Jeremy Hill becoming the first New Zealander to head the International Dairy Federation in 109 years.
Or, as I was reminded of in an email from a contact at the Department of Conservation, what about the limited coverage of Tim Aitken and Lucy Robertshawe becoming Marks & Spencer's number one farm supplier on earth?
Perhaps one solution is more people.
Radical, I know and likely to give Bernard Hickey heart palpitations, but "Scale Up or Die" released by the NZIER, argues that successful exporting nations are not only closer to their markets, but have large home markets as well.
It is the domestic market that helps create the scale needed for export success.
One hundred and twelve years ago New Zealand cracked one-million people versus the 4.4 million we have today - the most recent 1.2 million of us coming in just the past 32 years.
The NZIER argues we need 15 million Kiwis by 2060 because, "If New Zealand's biggest impediment to better economic performance is an absence of scale, there is only one way to overcome this over the long term and that is to grow the population through more migrants."
It is certainly a plan bolder and more convincing than taxing our way to greatness.
New Zealand exports are more likely to grow if successive governments target a population of 15 million by 2060 because more people bring more capital and more ideas.
They also bring more problems over land use.
That seems solvable by way of a hierarchy of land-use; reusing previously developed land first, increasing densities and leaving greenfield as the last resort.
The advantage of this is that it makes better public transport economically feasible. If we add more people without adding sprawl, I can confidently say that in terms of value and in terms of productivity, New Zealand farming is the star turn.
Globally, New Zealand agriculture is Hollywood and Wellywood all rolled into one.
We are the Wall Street of global farming because New Zealand's core competitive advantage is food production.
It is why New Zealand's brand for what we export and even for visitors ought to be about getting a little "NZ Inside".
Between 2012 and 2050, ANZ expects New Zealand to capture an additional $500 billion to $1.3 trillion in agricultural exports. This is an immense opportunity so striking the right balance is important. With good management and good science we can continue to improve how we interact with the environment and grow the economy. We can grow more jobs with an ever lighter footprint.
The solution is not complicated. It is trusting Kiwis to make their own spending decisions so Government just needs to spend less.
It is about focusing on outcomes rather than process.
It is about trusting the collective wisdom of a community to decide water limits for themselves and not some distant judge.
We produce safe, quality food in a world that is crying out for more.
We have great water nestled among some of the best scenery on earth. We are an educated and innovative people with an exciting future. We are the 'lucky' country but could be luckier, with a few more Kiwis..
-------------------------------------------------------------
Bruce Wills is the President of Federated Farmers. You can contact him here »