The launch of Fonterra's new TAF market on the NZX will be heralded with a specially commissioned giant cow-bell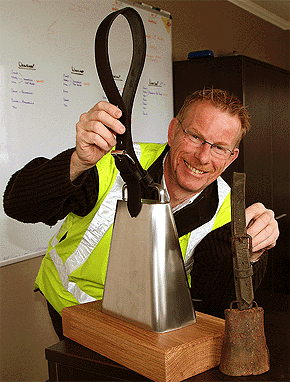 A giant cow bell, crafted especially for the occasion, will be used to ring in the launch of Trading Among Farmers on the NZX at Fonterra's Darfield site on Friday.
The ringing of a bell is the traditional way to open financial markets and is still used around the world to open and close daily trading.
Fonterra Southern Operations Engineering Manager, Greg Millane says the large stainless steel bell was based on an old cowbell and was commissioned with the help of Fonterra's team at its Edendale manufacturing site.
"Friday will be an exciting day for Fonterra. While the official launch will be held at Darfield, the Edendale team wanted to get involved and help our Canterbury colleagues celebrate the start of trading in style."
"Being Fonterra, we couldn't look past a traditional cow bell, but we increased the size just a little to note the importance of the event," says Greg.
Southland-based farmer and Shareholders' Councillor Philip van der Bijl has been chosen to ring the bell at midday on Friday as part of the opening.
-----------------------------------------
This story was supplied by Fonterra.