Bruce Wills wants to move from the 'bleeding edge' to the 'leading edge' by focusing on facts rather than assumptions. Do you agree?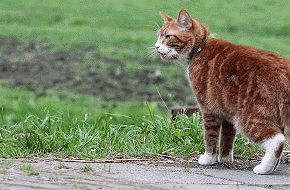 By Bruce Wills
Assumption is a dangerous thing and we are all guilty of it from time to time.
That includes Gareth Morgan looking sideways at my farm cats.
While our farm has three National Trust covenants, it is really only since 1080 knocked back possums that we have seen native birdlife 'take off'.
Not that this has affected our cats, who seem more preoccupied with rats, mice, rabbits and sleeping.
Morgan assumes if you strike out cats then birds will flourish. That overlooks other introduced and more destructive predators like rats and stoats.
A Wellington ecologist, John Flux, actually studied his own cat for 17 years publishing a paper on it in the NZ Journal of Zoology. While there was some collateral damage, 54 native birds in fact, his moggy killed 221 mice, 63 rats, 35 rabbits, 4 hares and even, two weasels.
While the real toll will be higher, he told Campbell Live that what matters is the ratio; cats prefer small mammals.
Flux challenges the assumption about keeping cats in at night because that is when they hunt rodents. It also fits with what I 'find' on my farm.
Similarly, DCD (Dicyandiamide) based nitrification inhibitors arose out of the considerable pressure to introduce solutions for diffuse nitrogen (N).
The assumption of sustainability advocates was that farmers were being cheap and anti-environmental for not jumping at these inhibitors.
The reality is that Kiwi farmers prefer to be at the cutting edge, rather than the bleeding edge of technology.
Magic bullets are rare in any field of life; farming especially.
We still have much to learn about soil science and as my Vice-President, Dr William Rolleston noted, "the current pause in DCD use reminds us that we need to ensure the regulatory system is up to date when we use and then test for new products, even if they are considered safe".
Solutions will come but the ones that work and have widespread adoption will take time.
Assumption has even popped up in the current Horizons One Plan.
The one that saw Gareth Morgan swallow a 'Mr Angry pill' then pour invective onto his blog about Federated Farmers.
New Zealand faces big challenges meaning we need big solutions; diffuse nitrogen being one example.
We need people like Gareth Morgan to channel their energies into making New Zealand a richer place in every sense of that word.
As farmers, we welcome creative workable ideas especially around meat and fibre which is not performing anywhere near its true potential.
In that respect our door remains open to Morgan as we hope his does too.
With Horizons One Plan, you may be surprised that I believe the Environment Court is right about farm working expenses increasing by 5–16.6 percent. But the Ministry for Primary Industries is also right when it says this will see farm profitability fall by upwards of 43 percent. We believe the Court and some of our critics have failed to appreciate the effect farm working expenses has upon farm profitability.
If we use DairyNZ's DairyBase report in a good season, like 2010/11, a five percent increase in farm working expenses before interest and rent, reduces dairy farm profitability by 9.6 percent. If these expenses increase by 16 percent instead, profitability before interest and rent dives by 30.9 percent.
Once you start adding in the interest and rent most farmers pay, things look bleak slashing profitability by 20 percent and over 60 percent respectively.
Scarily, if One Plan had operated over the 2008-2011 seasons and a farm's expenses had increased by 16 percent, it would have made a cumulative loss of 79 cents per kilogram of milksolids.
While extensive sheep and beef farms are not yet captured by Horizon's nutrient loss rules, a policy track suggests this is more 'when' than 'if'.
Plotting 2010/11 against Beef + Lamb New Zealand's Taranaki-Manawatu report, means a five percent increase in farm working expenses drops sheep and beef profitability by 12.6 percent.
If farm working expenses increase by 16 percent, farm profitability goes down by a jarring 39 percent.
Given all farm incomes are market driven and variable, if we choose a poor season like 2008/9 and apply a five percent increase in farm working expenses to sheep and beef farms, profitability then falls by 26 percent. But if farm working expenses in that season had increased by 16 percent instead, farm profitability would have collapsed by 82 percent.
You see the impact upon intensive sheep and beef, arable farmers or vegetable growers has never been examined.
Horizons also never considered what the social impacts of One Plan will be on the towns and cities within it; that only came to light during the last Environment Court hearing.
While some may believe it "will not be the thing that drives farmers out of business," that is not the Environment Court's view and our analysis suggests why.
With Horizons at the 'bleeding edge' it could introduce a variation today in order to go back to 2010's 'cutting edge' Decisions Version.
The real question should be, why not?
-------------------------------------------------------------
Bruce Wills is the President of Federated Farmers. You can contact him here »