ASB leads way in rural lending growth helped by bounce back in dairy conversions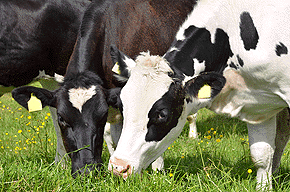 By Gareth Vaughan
ASB says it's growing lending to the rural sector by more than any of its major rivals with rising numbers of dairy conversions helping.
Mark Heer, ASB's general manager of rural banking, told interest.co.nz  that on a rolling 12-month basis his bank's growing rural lending market share by just over 1%.
"If you look at rural mortgage registrations and you look at discharges, if you take the positives and minus the negatives,  through to the end of December we're in the most positive position compared with our main competitors," Heer said. "We're quite strong. We're leading that market at the moment and have been for a couple of quarters."
His comments come after interest.co.nz reported in December that ASB grew combined rural and business lending by NZ$562 million, or 4.8%, in the September quarter, which by value was almost double the growth recorded by the second placed BNZ.
Reserve Bank sector credit data shows agriculture sector debt up NZ$2.4 billion, or 5.1%, year-on-year to a record high of NZ$49.773 billion at the end 2012. And in its Financial Stability Report last November the Reserve Bank warned the dairy sector appeared more vulnerable to a sharp decline in the payout than at the peak in dairy prices in 2007/08.
Meanwhile, Heer said ASB's rural lending was growing through a combination of quite strong new customer acquisition with the bank refinancing rural customers from other banks over to ASB, strong retention of existing customers, and existing customers taking on additional funding.
Rising interest in dairy conversions
Asked which rural sectors were driving the lending growth Heer said the dairy sector was the key one.
"We have seen more dairy conversions in the past 12 months," Heer said. "I would say that it probably hasn't returned to pre-GFC (global financial crisis) levels but there certainly has been a rebound. There is certainly significantly more interest in opportunities for dairy conversion."
This followed a spell of about 12 months where there were almost no dairy conversions, he added, without providing any specific numbers on dairy conversions ASB has helped finance.
Heer was speaking after ASB announced the launch of a new Rural Credit Facility. The bank said the new product combines the features of a cheque account, call account, overdraft and lending facilities. In a move reminiscent of BNZ's TotalMoney home loan product that has been replicated by Kiwibank, it will also enable rural businesses with seasonal periods where they are in significant credit, to offset their total cost of borrowing. 
"We've worked hard to try and cover all bases in terms of looking to provide a solution so that the benefit to a farmer of having lazy cash in the system is maximised," Heer said.
"What we believe the Rural Credit Facility provides is a product where if your cashflow is lumpy, you can actually structure your funding upfront so when those periods of cashflow surplus come through they effectively automatically offset part of your term debt and that provides a more cost effective funding structure for you."
Despite ASB's recent spike in rural lending growth, the majority of its overall lending remains in housing. As of September 30 the bank had total advances to customers of NZ$54.160 billion, dropping to NZ$53.958 billion after fair value hedge adjustments and provisions. Some NZ$12.230 billion, or 22.6%, of total lending was to the corporate and rural sectors. A total of NZ$37.726 billion, or 69.6%, stemmed from residential mortgages, and the remaining NZ$4.204 billion, or 7.7%, was attributed to "other retail."
This article was first published in our email for paid subscribers. See here for more details and to subscribe.