Keith Cooper says structural change is no substitute for strategy. He wants an end-to-end strategy to create value within the red meat sector. Your view?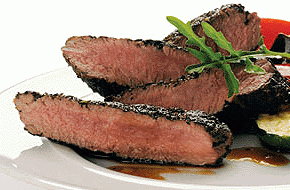 By Keith Cooper*

Let's understand the cause of the current alleged crisis in the red meat industry before we start jumping to emotive conclusions as was displayed by the erroneous header of strategic thinking in Allan Barber's article dated the 23rd January.
Addressing sheep meat alone with a strategy for its viability, as Allan puts forward is, in my opinion, a piecemeal solution and is emotive reaction to the current sheepmeat based issues.
It ignores the reality that we have a total red meat sector which encompasses sheepmeat, beef and venison.
For the record; there is no doubt the New Zealand red meat industry needs a series of fundamental changes.
We need less industry organisations, all of which are inevitably funded by farmers.
We need to create a single industry body which brings to the table all stakeholders - those involved in on-farm service and support, farmers, meat processors, exporters and marketers.
We need fewer meat processing and exporting companies.
That alone will reduce the fragmentation both within New Zealand and off shore.
However, less meat processing capacity requires farmers to support, with a commitment to supply, those processors who do make the effort and financial commitment to better align and consolidate the industry.
Generating greater commitment of supply is raised in the Red Meat Sector Strategy, but one could legitimately question whether garnering enough commitment from farmers to underpin consolidation at this point in time is achievable.
We need more integrated farmer+processor+exporter+marketer initiatives which not only create more value in the product itself, but also can capture extra value from the marketplace by marketing the brand and product attributes to consumers.
Efficiencies and economies of scale give rise to economic growth.
It is an inevitability that farmers also need to aggregate landholdings to create efficiencies and economies of scale. This is already happening and it is giving those retiring from the industry a way to realise their capital investment and exit with rewards for their hard work. This will allow for farm systems to change at a faster rate than is currently occurring.
So to the analysis.
What happened last year that caused the price spike which is now being used, erroneously, as the benchmark for present lamb prices?
Due to procurement market conditions, the price of lamb in the international marketplace rose to a level that saw consumption drop by 25 percent.
Farmers and others in our industry may have seen this scenario play out before, but many readers may not be overly familiar with the elements which influence supply and demand dynamics in our sector.
A chronology of contributing factors was involved.
Seasonal conditions in spring of 2011 were excellent. Strong grass growth saw farmers withholding lambs to use that grass.
Supply to consumers was restricted and the market became short of product. Companies then lifted schedule prices to procure stock to maintain a flow of product to markets/consumers.
Those increased procurement values were reflected in retail levels and as a result, consumers exercised their choice discretion.
When those lambs came through for processing in January and February 2012 it created a glut of product and the market became overloaded. Demand wasn't there and the price crashed.
So in reality factors escalated beyond anyone's control – climatic conditions coupled with farmer behaviour in converting grass to meat caused a series of events that have put us into an overcorrection cycle.
On a positive side this has seen market prices decrease to a level where they are now stimulating consumers' interest and restoring demand.
In time the true market level will be established between the unsustainable peak of 2012 and the current unsustainable trough we are in. The following chart demonstrates – that over time the farm gate values are trending upwards, yes with some volatility which is now the way of the world.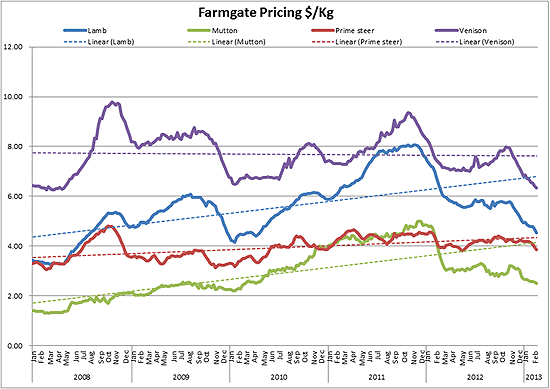 The overall value returned to farmers continues to increase and based on forecasts for increasing population and decreasing land available for meat production, the outlook must surely be positive.
Much has been made of meat industry debt. In my mind debt is normally associated with core capital requirements, whereas the reality of last season saw the need for significant working capital at the conclusion of the season due to high inventories.
Yes it's debt. But it's actually working capital that increases as inventory builds and declines when it is sold. This is much like a farmer's working capital which fluctuates during the course of the season.
The fact that the New Zealand meat industry saw a lift in exports at the start of this current season is testament to the increasing demand.
Inevitably increasing shipments will not only stimulate further consumer demand, they will also ensure processors will have lower working capital requirements at the conclusion of the 2012/13 season.
The timing around industry consolidation demands is critical. Yes there is tension for change at the moment while we are in a period of unsustainable returns to lamb producers.
Structural change is no substitute for strategy.
It is critical an end-to-end strategy to create value within the red meat sector is developed. Once this strategy is developed the most appropriate structure(s) can then be developed with farmer support.
------------------------------------------------------------------------------------------
Keith Cooper is the chief executive of Silver Fern Farms. You can contact him here »