Bruce Wills says Fed Farmers are genuinely impressed by what is being proposed for sections 6 and 7 in the RMA "where wording makes a world of difference". Your view?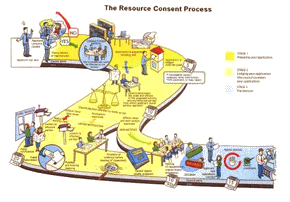 By Bruce Wills*

Drought is starting to creep into town with water restrictions biting in many areas except for Auckland, where the Waikato River pipeline is meeting metropolitan needs.
Some could say lifeline is perhaps a more accurate word. 
DairyNZ anticipates declines in milk production between January and March will be $215 million in lost farm revenue.
In my sheep and beef sector, farm profitability is forecast to halve in Beef+Lamb NZ's latest mid-season update.
The news coming out of the Central Districts Field Day was one of farmers keeping their hands in their pockets except when it came to feed.
In this gloom it is hard to see any light but my friend, Mike Petersen, who chairs Beef+Lamb NZ, has found it.
Sheep and beef "on-farm productivity gains over the past 20 years have outperformed every other sector in New Zealand," Mike said
The bad news was that "the industry as a whole is not performing at the level required to enable a prosperous and vibrant sector." 
Too true. Many farmers look longingly to Fonterra but forget it is a global logistics company as much as it is a marketer and a processor.
Fonterra is embedded in supply chains whereas some meat processors find it hard to look beyond the nearest port. 
That may be changing with one chink of light failing to get the coverage it deserved. 
Silver Fern Farms is partnering with Proliant, a United States' based biotechnology company to collect bovine serum albumin or BSA.
This comes from cattle blood that is a common byproduct of meat processing. BSA can be used in vaccines to biomedical applications and I doubt many people know there are pharmaceutical managers being employed to commercialise animal byproducts like cattle blood.  Worth upwards of $6 million initially it is a small start but also hints at what may be possible.
Another chink of positive light is reform of the Resource Management Act.  To many the RMA is less interesting than watching paint dry.  While many people know the RMA influences a lot of what we do its effects are indirect unless you live it daily like farmers.
When I was growing up the Government used to pay farmers to rip out hill and high country bush in favour of livestock. In recent decades that pro-development pendulum rightfully stopped but has swung to the opposite protection extreme. The RMA must be about striking the right balance between what the public wishes to protect and what that means to someone who wants to legally use their land.
What may surprise some is that Federated Farmers supports the purpose of the RMA and the need to protect our most important natural assets.  Who wouldn't?
Yet most people want real jobs delivering living wages and that demands policy reform like what the Government recently put out in its 83-page RMA discussion document. Aside from missing provisions for compensation you could almost mistake it for Federated Farmers 2008 reform package; Let's Make it work – Why the Resource Management Act must change.
We are genuinely impressed by what is being proposed for sections 6 and 7 in the RMA where wording makes a world of difference.
Take section 6 and "the benefits of the efficient use and development of natural and physical resources". This may not sound like much but it should enable a more considered balance between protection and resource or land use. 
This also applies to the decision to include a new section 7, requiring councils to achieve "an appropriate balance between public and private interests in the use of land".  To Ian Mackenzie, our environment spokesperson, he felt all councils should ask themselves that very same question every time they make a decision.
Farmers will cheer loudly the proposed dropping of "the maintenance and enhancement of amenity values".  Given one person's ideal landscape is another's working landscape, amenity has been used as an excuse to slap controls on rural development.
This also impacts urban growth, land prices and eventually first home buyers. Given the debate raging between advocates of a denser Auckland and those who want a sprawling one, we need to talk more about this as a country.
Given there are 170 planning documents for 2,272 different zones or management areas in New Zealand, we genuinely hope RMA reform will deliver consistency in planning and decision making.
Our one caveat is maintaining local, catchment or regional decision making on resource management priorities.
Reform even proposes non-statutory priorities to guide the development of National Policy Statements and National Environmental Standards. And for those who find themselves tripped-up building a new deck, there is a 10-day time frame proposed for the processing of minor consents. This will come with a limit on the conditions that can be applied, exclude the notification of some consents and even exempt some minor activities.   
The front-ending of community planning also gets a big tick from Federated Farmers because this will give confidence to collaborative processes - as long as it is not undermined by an aggrieved party storming off to the Environment Court without just cause.  If this can be achieved then collaborative plan-making may be given real legs.
Farmers are up for a national discussion on the RMA because reform isn't about gutting the Act and going back to pro-development days of old.
It is correcting the balance between protection and resource use and if we can accomplish all of that, we may just see the environmental pendulum go back to the centre where it belongs. 
-------------------------------------------------------------
Bruce Wills is the President of Federated Farmers. A version of this article was published in the Dominion Post. It is used here with permission. You can contact him here »