Bruce Wills says it is vital we store water for irrigation and use in dry periods. Stored water preserves rivers and groundwater resources. Your view?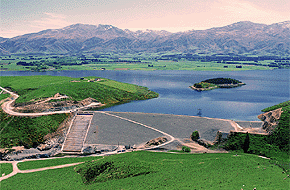 By Bruce Wills*

While I may occasionally raise an eyebrow at what climate change scientist Dr Jim Salinger says, his message that the climate will change is sound.
Our climate changes because we live on a dynamic planet.
That is why I find the categorisation of 'denier' occasionally hurled at farmers to be somewhat strange.
Farmers are fastidious weather record keepers with detailed records going back to before some of the official records.
Farmers also work outdoors and depend on the outdoors for our livelihood; farmers, if anything, are weather obsessives.
Another thing the word 'denier' presupposes is that we deny the Ice Age and that is ridiculous.
In our solar system there are several planets with relatively unchanging climates like Mars and if there's life there, it is not as we know it.
One Sunday paper recently ran the headline that this drought is "the most severe in history."
Undeniably this drought is one for the history books but is it worse than the drought of 1982-83?
Thirty-years ago drought gripped not only the North Island but Australia too and this Trans-Tasman drought remains one of the most destructive in Australian history.  
In some weather related irony, my Federated Farmers Board colleague, Katie Milne, recently flew to Australia for a demonstration of farm equipment but that was rained off.  She subsequently turned around and returned to a drought afflicted West Coast.
Back in 2003, Dr Salinger was quoted as saying, "it's getting more tropical as the temperature goes up".  The focus of much climate change discussion has been towards the more apocalyptic extreme.
As the climate has always changed there are negatives, yes, but many positives too. A more Mediterranean climate may bring new pests and diseases but it will also see off many cold climate ailments too.  
Take Northland, which by the end of this century, could end up with a climate similar to that found in southern Queensland. 
For livestock farmers that will see what they farm and even genetic lines tailored to regional climates.
It may mean commercial crops of soybean, sorghum and potentially rice may become possible.
From reading I even understand everything from mangoes to Thai galangalginger is found in Northland.  Among these and other tropical fruit could be the next 'Chinese gooseberry' breakthrough.  It is not beyond the realm of fantasy that even Oil Palm could one day become viable. 
My point is that farming will continue but its nature will evolve and adapt.  We must be open-minded about the possibilities and ensure we have all the tools in place to turn challenges into opportunities.
Take the engine room of any farm; its pasture and crops. We are already seeing a renaissance in deep-rooted Lucerne championed by farmer Doug Avery.
You can add to that drought tolerant crops of chicory, plantain and not to mention deciduous trees like poplars and willows. New cultivars of drought-resistant pasture will also come forward as we add new tools to our toolbox.
Our farm pastures are also a significant if unheralded environmental tool. 
They are arguably our best means of keeping nutrients on-farm and out of water yet it needs three things to flourish; high soil temperatures, long sunshine hours and water.
Right now we have two of those elements but lack the vital third; water.  Even when the drought does break it will be three to six weeks before pasture responds and that takes us perilously close to winter.
Even then much of it will need to be renewed but water, I think we can all agree, is vital to an economy whose secret recipe is "just add water."
The Opuha Dam has effectively drought-proofed a large swathe of South Canterbury.
Opuha has been lauded by Labour and National politicians. Even Dr Russel Norman seemed impressed when Federated Farmers hosted him there several years ago. It provides water for farms, an environment for aquatic life, a place to recreate and minimum flows to the formerly summer dry Opihi River.
Economically, it has exceeded all expectations but it also opened back in 1998 and remains our sole example of modern water storage.
For intensive cropping, dairy and horticulture, the benefits of irrigation are self-evident.  Yet much irrigation is dependent upon groundwater or river takes and both are affected by drought or just summer.
Capturing and storing water during winter frees irrigators from river takes and groundwater.
Yet water storage is also a breakthrough for drystock farming too. Irrigating even 20 hectares of a farm becomes a pasture generator reducing that climatic lottery we currently have. 
According to the ANZ Bank the current drought has already cost New Zealand over a billion dollars. Irrigation NZ estimates this sum, if invested in water storage projects, could future proof Canterbury for the next 100 years.
Like Irrigation NZ, Federated believes the solution lies in a combination of regional and on-farm water storage.
Farmers are smart adaptive people but as our climate will change, isn't it smarter for public policy to enable the solutions we will all need to meet it?
-------------------------------------------------------------
Bruce Wills is the President of Federated Farmers. You can contact him here »