Conor English sets out how a reformed national red meat sector procurement might work, using part of the Fonterra model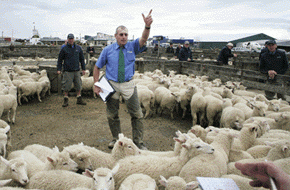 By Conor English*

Recently about 1,000 meat and beef farmers meet in Gore.
This meeting highlighted the concern that these farmers have about the profitability and sustainability of their farming businesses.
There are questions about the ability of the current supply chain arrangements to deliver appropriate returns to farmers so that they and their families can get ahead while New Zealand as a country can take advantage of the increasing market opportunities there are in a world of more people, protein and wealth.
About three years ago Federated Farmers launched a T150 campaign, which set the aspiration of farmers receiving $150 for a mid season lamb.
It's a simple idea.
Right now this seams a pipe dream, but it is actually critical to New Zealand that this target is reached sooner rather than later. 
As a speaker at the Gore meeting I stated that the status quo leads to peasantry; change is required; change needs to happen now; and no-one is exempt from change.
Too often both farmers and companies have talked passed each other, suggesting it's the others responsibility to change.
The reality is everyone needs to be prepared to make some changes. That's what happens in a dynamic marketplace.
The trick is to get sentiment translated into real action that actually does make a difference.
So what should be changed and how?
To give a contextual framework, the 2011 Red Meat Strategy promoted action in three key areas:
In-market coordination
Efficient and aligned procurement
Sector best practice
While this strategy specifically, and perhaps unhelpfully, ruled out recommendations on industry structure, it does provide a useful framework.
In recent correspondence I have had with my counterpart at the National Farmers Union in the UK, he has expressed concern that NZ lamb is apparently selling at half the price of domestically produced lamb.
If this is indeed the case on an apples with apples basis, it is not good for farmers in either country.
There are many anecdotal stories of NZ companies undercutting each other in the market.
This has been a long rehearsed argument for change by farmers, some of whom suggest a meat sector "Fonterra Model" is the silver bullet. 
However, its all about incentives, and many of the incentives in the meat sector are around volume, rather than value. We need to start to unpack what the "Fonterra model" actually is.
It simply has to be acknowledged that meat and milk are different products, with selling meat more complex as it disaggregates a carcass into over a hundred different components while milk essentially gets the water sucked out of it. However it is still possible to run a procurement model as per the Fonterra procurement model.
In the Fonterra procurement model all farmers sell their produce at the farm gate to one processor/marketer and every farmer receives the same price per kilo for his/her product irrespective of when they supply it. It is essentially a nationwide, year long pool system which gives out advance cash payments and an end of season adjustment. Any extra revenue earned at peak times or from high value customers is simply tipped into the pool and everyone gets to benefit or otherwise from it. Its pretty straight forward and dairy farmers seem to like it.
For the meat sector to do this would mean essentially running a nationwide pool for each of the grades of meat.
This would mean that farmers would receive the same price whether they sold in December, February, May or September.
As with Fonterra, a kilo price per grade would be announced at the beginning of the season, for example say  $6.50.  This would be reviewed a couple of times during the season. An advance payment would be made of say $3.50 per kilo and then at the end of the season there would be an under and over wash up.
This could work. It would be a dramatic change for the sector and needs to be more thought through.
For some farmers, the "Fonterra model" means one company doing most of the processing and marketing. For meat this means consolidation of the farmer owned Co-ops and perhaps others. While it has its complexities its not impossible.
Perhaps there may need to be a restriction on new capacity. An alternative suggested is almost the old Dairy Board model where there are a few processors who toll process and focus's on processing efficiency, while a separate organisation undertakes a reasonable size chunk of the marketing of the product. It would split out the volume incentives to maximize processing assets from the incentive to maximize value in the market.
That there needs to be change, and change by all, there is no doubt. However just what those changes should be is still a work in progress. Watch this space.
----------------------------------------------------------------------------------------
Conor English is the chief executive of Federated Farmers. You can contact him here »