February milk and milk solids production falls as the drought intensified but reduction limited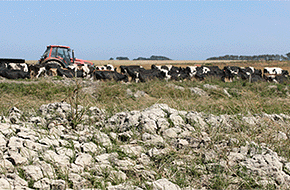 The widespread drought in February took the top off national milk production, according to the latest data from DCANZ.
But the fall may have been less than some expected.
1,763,000 tonnes of milk were produced in the month, 23% less than in January but only 6% less than February 2012. Visitors to central North Island dairy regions in February may have predicted much sharper declines, but the growing output in the South Island insulated the fall.
However the 2013 February production was still 4.8% more than February 2011.
Annual (12 month cumulative) production to February was 20,500,000 tonnes and 0.5% less than the record set in January. February is the first month since December 2010 that the annual production fell, and the largest fall since April 2010.
It is likely that both March and April production data will be well down on the same period a year ago due to strategic decisions many dairy farmers took in herd management as the impact of the dry spell bit harder.
By April the rains returned but the milk won't until next season.
Markets have reacted to the fall by sharply bidding up milk commodity prices.