Dairy prices fall 7.3%, milk powders down 10% in latest Fonterra auction as they give up some of the gains over the past few months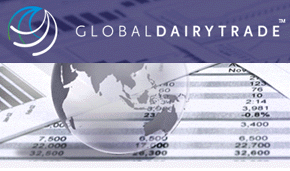 The latest globaldairytrade auction has seen prices fall 8.1% in NZ dollar terms from the previous auction on April 17, a 7.3% fall in US dollar terms.
The sharpest falls were for milk powders.
Wholemilk powders were down 10.2%, skimmilk powders were down 9.5% from the previous auction.
These retracements only take overall prices back to where they were in late March 2013.
This snaps a run of nine straight auctions where prices rose. The correction was not unexpected.
The GDT-TWI is now 1,580 compared with 894 at the same time a year ago, and represents a 77% gain over that time, despite today's fall.
The index peaked at 1,704 at the April 16, 2013 auction.
Anhydous milk fats fell 5.2% from the prior auction but are still up 70% from a year ago.
Butter fell 6.7% from the previous auction. It was not offered a year ago.
Cheddar cheese was up 3.4% from the prior auction, and up 72% from a year ago.
Rennett casein fell 3.1% from the prior auction, but is still up 74% from a year ago.
Total volumes sold in this auction were 17,237 tonnes, and this was only about half of the volumes sold in the auction at the same time a year ago, although it was 14% more than in the mid April 2013 auction.
Todays auction comes after it was announced that India's largest dairy co-operative GCMMF has joined the globaldairytrade auction platform.
"Amul" is India's largest dairy and food brand. Amul's cooperative model pioneered India's White Revolution that helped India become the largest producer of milk in the world. Amul range of products are marketed by Gujarat Co-operative Milk Marketing Federation.
GCMMF has 3.2 million milk producers affiliated to 50 cooperative dairy plants with a total milk handling capacity of 20 million liters per day. The total milk drying capacity is 600 MT per day. GCMMF's annual sales turnover in 2012-13 was US$ 2.5 billion. GCMMF is also the largest exporter of dairy products from India.