Farm health and safety and rural suicide high on agenda at Federated Farmers conference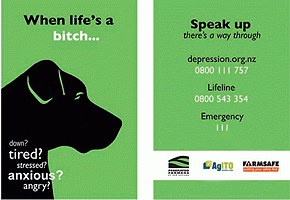 Content supplied by Federated Farmers
Federated Farmers health and safety spokesperson Jeanette Maxwell will discuss the work to improve quad bike safety on farms and, more importantly, the Federation's steps towards reducing the rural suicide rate in FarmSafe's rural safety conference in Wellington next week.
"The politicians, policy makers and influential agri-business people attending the Rural Safety – A Forward Focus conference next Wednesday will have a very good opportunity to discuss what is happening with on-farm safety and what can be done to improve it," Mrs Maxwell says.
"I am looking forward to hearing from Coroner Brandt Shortland about the coronial inquiry into quad bike safety and then participating in the stakeholder discussion on the future of quad bike safety afterwards."
"Federated Farmers recognises this is an issue which needs to be addressed, which is why we have made several recommendations to various taskforces, committees and consultations about what we believe can be done to encourage safer use of these ubiquitous farm tools."
"However, I think the afternoon session, which is devoted to mental health issues – particularly suicide – is even more important."
"Unfortunately, due to the taboos around reporting on suicide and mental health, the fact that for every on-farm quad bike death 18 rural people kill themselves is not widely known."
"Suicide is probably the major issue in the rural health and safety sector and, for a number of understandable reasons it is one of the least reported."
"However, Federated Farmers is part of a new wellbeing working group to bring the issue out into the open so people are better equipped to deal with depression."
"I hope the discussions and information shared at this conference will go a long way towards bringing this long ignored issue out into the open," Mrs Maxwell concluded.