Bruce Wills says the Ruataniwha Dam project will be worth the cost to farmers, drought-proofing the region. The Opuha project proves the benefits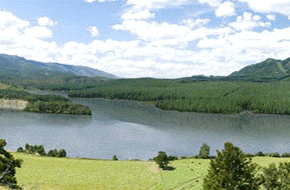 By Bruce Wills*

The lead-item on TV3 News last Friday evening, about meat exports held up in China, would have caused concern among farmers.
China is not only our largest market by volume, but in the first three-months of 2013, became our largest market by value too.
The $204 million worth of lamb it took, knocked Britain off its perch as our number one lamb market for the first time
This mirrors recent Trade Statistics that saw Australia replaced by China, albeit temporarily, as our number one export destination overall.
New Zealand's farmers value the Chinese market and we hope this message can be conveyed to the Chinese authorities.
What has happened seems to be an issue over paperwork on export certificates.  We can only hope this is solved and solved soon.
China is vital to our future but we must not repeat the dependency we had with Britain up until it entered the European Union.
Avoiding dependencies applies in our back yard too. 
To export primary produce, from trees to cheese, we need water and that is the simple truth underpinning the Ruataniwha Dam project.
Some have raised concerns it will not be financially viable, environmentally sustainable and that it will suffer from lack of demand.
To answer these criticisms, Hawke's Bay Regional Council has consistently put publicly accessible information onto its website.
The large-scale storage of water isn't a new concept because towns and cities do that with 'town water'.
Given we have plentiful, if uneven, rainfall at times Federated Farmers strongly supports water storage for farming.
We also support Ruataniwha in principle but our final backing awaits the final business case; then we will know if it is financially viable.
To his credit, that is the same view held by Labour's Shadow Minister for Primary Industries, Damien O'Connor.
The last big water storage scheme to open for farming was South Canterbury's Opuha Dam. 
This opened in 1998 but work towards it started back in the 1980's.  It came about because of the same issues we have here; a lack of reliable water over summer.
Today, Opuha irrigates farmland, supplies town water and generates electricity.
It also provides permanent flow to the formerly 'summer-dry' Oipihi River and offers recreational, tourism and environmental opportunities.  In drought proofing South Canterbury, Opuha has vindicated every promise made about it.  Yet Opuha only came about due to the perseverance of a small band of believers spanning two decades. 
If everything stacks up here, financially and environmentally, having Hawke's Bay Regional Council's involvement advances Ruataniwha's timeline.
From a bottom line perspective, added farm values could rise by $70 million each year putting an average $391 each year into every Hawke's Bay household.  Ruataniwha could also create 632 new full time jobs on-farm, aside from that needed to construct it or the downstream jobs these will create.
Ruataniwha potentially frees central Hawke's Bay from the rainfall lottery by avoiding absolute dependency on it raining.
It also enables new types of land use, farming and environmental innovation.  All things the Opuha Dam has proven.
Ruataniwha will have the capacity irrigate 25,000 hectares while generating 6.5 megawatts of electricity.  Enough to supply over 3,000 households with clean renewable energy.
Where are the downsides? 
Much of the criticism revolves around low take-up due to the cost and that dairying will be the only land use that will use it. A council report released, in November 2010, puts the on-farm investment at $7,394 - $9,428 per hectare. In the latest September 2012 report, the on-farm water distribution cost is put between 20c and 30c per cubic metre.
But can farmers like me not afford to do it?  Current water takes are prone to summer irrigation bans highlighting the absolute need for reliable water when those bans affect 200 consent holders. 
Budget 2013 estimates this year's drought will shave 0.7 percent off the nation's economy; upwards of $2 billion.  Having run a calculation on my farm the costs above seemingly add up. Sheep and beef farmers, like me, would likely irrigate a portion of a farm creating a 'pasture factory' if you like.  This means we can keep stock on-farm rather than destocking in dry summers.  This means I can send stock at the optimum time rather than being forced into it by a lack of feed or water. 
Macfarlane Rural Business predicts irrigation will be taken up by dairy (37 percent), arable farming (32 percent) and sheep and beef (13 percent). Other land uses, like horticulture, will likely fill the balance.
Reliable water may see distinct 'farm types' blur along with better farming practices to maximise income per hectare. Doing this boosts the community's payback in terms of jobs, incomes and the environment.
Irrigation and keeping our pastures green mean that soils and valuable nutrients stay on-farm and out of water.
Drought is a fact of life in the Hawke's Bay.  It has happened before and it will happen again but Ruataniwha means we can farm through it benefiting all.
-------------------------------------------------------------
Bruce Wills is the President of Federated Farmers. You can contact him here »