Ten hectares of vineyard on Waiheke Island developed by two wine enthusiast family partners is now for sale along with another 7 ha of adjoining land that is a mix of wetlands, native bush, pasture, internal tracks and olive grove.
Obsidian Vineyard has been established for 17 years and is located in a sheltered valley north west of Onetangi, and is planted with 23,000 vines.
Michael Wood has developed eight vintages of trophy and gold medal winning wines and is staying on as winemaker and viticulturist.
He has built a first class winegrowing operation situated in a near perfect "amphitheatre"setting in Onetangi, producing a full range of classic red and white vinifera grapes.
The property is being marketed by Bayleys and sales details are here »
Obsidian and Weeping Sands wines produced here offer an extensive range of wines - syrah, Bordeaux-blends, chardonnay, viognier, pinot gris, rose, tempranillo and montepulciano. Obsidian has developed a reputation for quality and innovation, being the first vineyard on Waiheke island and the upper North Island to plant Mediterranean varieties (tempranillo and montepulciano).
Red and white grapes are harvested at Obsidian's home vineyard in Onetangi. Additional white grapes (pinot gris and chardonnay) are harvested (under an informal agreement with another vineyard).
All of the white grapes are transported by truck to the Goldie winery (on Waiheke – less than 10 minutes drive away) for crushing, cuvaison (winemaking) and elevage (barrel ageing). All of the red grapes are transported by truck to Shepherds Point winery (on Waiheke – less than 10 minutes drive away) for crushing, cuvaison and elevage. There are separate formal agreements is in place for both arrangements.
When a wine is ready for bottling, labelling and packaging, it is transported via tanker/truck to Pleasant Valley winery in Henderson, Auckland, again under a formal agreement..
The finished packaged wine is stored in bond at that winery, and then despatched from there on demand for delivery to a customer by their logistics service.
Production has varied, with more than 50 tonnes produced in 2011. About a third was merlot and about 15% syrah. However output has fallen in 2013 to 33.7 tonnes with a shift away from merlot, according to documents available on the sale.
The sellers point to 'considerable potential to expand in the wine tourism' area that is growing rapidly in Waiheke. They declined to confirm the current operations are profitable and say that 'depends' on how the property is operated.
Brand reputation is considered a significant asset by the sellers.
This is a small specialist operation in a prime position on an icon wine Island and in the middle of substantial vineyard industry infrastructure. It is being marketed internationally.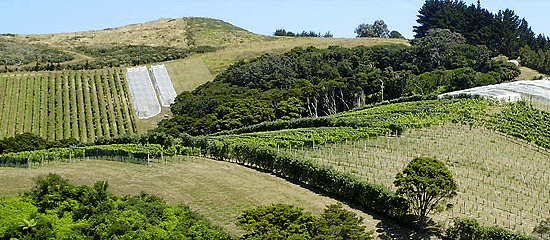 ---------------------------------------------------------------------------------
This is a property for sale that is listed in our Farms For Sale listing service here» where more than 3,000 working rural businesses are listed and searchable.