The Weekly Livestock Report: Weather improves along with lamb, wool and dairy prices but beef prospects fall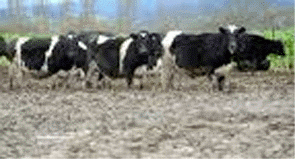 DAIRY
Saturated paddocks in Canterbury and Otago are causing major problems with feed utilization, as forage is wasted in the resulting muddy conditions and cow condition in some herds has suffered as a result.
Strong demand for supplements is evident with a sale in Mid Canterbury attracting heavy interest for all classes of feed offered.
However this weeks westerley weather is just what was ordered from the weather man, as winds and mild conditions will help easterly areas dry out.
In the north, managers of early calving dairy herds are starting to plan spring rotations and adjusting feeding levels for those animals that have achieved body condition score targets.
Minimising pugging damage and making sure saved pastures do not get too long, will ensure quality feed to maximize milk flows for longer pre Xmas, and capture the strong milk commodity prices at present in the market.
Murray Goulburn in Australia has upgraded the 2013/14 forecast before the season has even begun, and shows processors believe high prices are here to stay with demand boosted even further by an easing currency.
The latest globaldairytrade auction saw commodity prices firm slightly even with an increase in volume offered. Strong powder prices drove this result and reinforces processors predicted forecasts for the new season and coupled with an easing currency will be pleasing outcome for all dairy farmers.
LAMB
Lamb schedules are continuing their steady climb as volumes in the north dwindle and a helpful currency encourages processors to compete strongly to maintain loyal customers for chilled product.
Keith Cooper from Silver Fern Farms is speculating lamb prices could average $100/head in the new season and is confident an estimated 5% reduction in volume will not impact too heavily on surplus capacity in the sector.
Southern farmers affected by the snow, report only light losses after successful raking and recovery operations were well supported by volunteers.
Heavy frosts are now being followed by a rapid thaw which will add more stress on weak stock and cause some productivity losses as the spring looms.
The shortage of prime lambs is now being seen in the southern saleyards with prices lifting by $15/hd at Tinwald, and in north, in lamb ewe offerings are now making well over $100/hd, as feed and market prospects improve.
Prices are also firming strongly in Australia and evidence of restocking demand has seen ewe lambs traded in the saleyards for as high as $200/hd.
WOOL
The last wool sale of a disappointing season saw a shortage of supply and tight shipping schedules lift crossbred wool indicators to a yearly high, although prices are still 60-70c/kg clean behind the previous season's average.
Westpac picks further price movements for crossbred wools on the back of US housing growth, but is less optimistic on medium and fine wools prospects.
With now a month of currency falls and an obvious shortage of product, buyers policy of low stocks and a quick purchase program could be tested on this rising market and growers will be more optimistic for the start of the new season.
BEEF
More stable beef schedules, as the US market works its way through surplus stocks of lean beef imports, but processors report the price of chicken has risen considerably and are expecting beefs competitiveness to improve soon.
Westpac is not so optimistic however as they point to the influx of Australian beef into the US as a result of continuing dry conditions having a dampening affect on the world market.
It is interesting to note that fish farming in the world is now producing more protein than beef, and reflects the challenge for marketers and for breeders to improve feed conversion rates from cattle to compete.
DEER
More venison schedule lifts as July/August heralds the start of the European chilled game season, although processors report the market cautious and subdued.
There is hope the easier currency with Europe will reinvigorate demand and return the premium back to this product it deserves.
Farmers are focusing on improving on farm production parameters as they strive to stay competitive with other landuse options.
Velvet farmers will be pleased to hear all NZ stocks are either sold or committed to sale and are optimistic prices can be maintained or improved in the new season.
---------------------------------------------------------------------------------------
Here are some links for updated prices for
- lamb
- beef
- deer
- wool