Groser says China has suspended whey and baby formula base imports, but not milk powders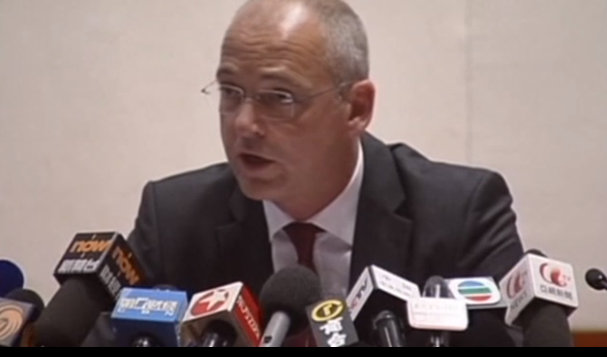 By Bernard Hickey
Trade Minister Tim Groser and Fonterra say China's suspension of Fonterra's imports was not as wide as first thought and was limited to whey powder and infant formula imports, which represents less than 10% of dairy exports to China. 
Fonterra CEO Theo Spierings later said he was confident the suspension could be lifted within 48 hours. The New Zealand dollar bounced overnight to 78.2 USc, broadly where it was before the botulism scare.
Groser told a post-cabinet news conference China had taken a measured approach to the disclosure that a batch of  Fonterra whey powder produced last year may have contained the bacteria responsbile for botulism.  He said he hoped the ban could be lifted within weeks. 
Groser said the ban did not apply to whole milk powder and skim milk powder exports, or to exports by non-Fonterra exporters such as Synlait and Westland Dairy Cooperative.
Exports of whey and base infant formula were thought to be less than 10% of Fonterra's NZ$2 billion exports to China.
Fonterra later confirmed the limited scope of the suspension.
"Chinese authorities have temporarily suspended importation of whey powder and dairy base powder (a whey based dairy ingredient used in the manufacture of infant formula) produced by Fonterra, or produced in Australia using Fonterra's whey protein powder as an ingredient (including whey protein concentrate)," it said.
"China has also increased inspection and supervision at the border for New Zealand dairy products, and indicated extra testing may be required."
"MPI has confirmed that China has not closed the market to New Zealand dairy products - and that China is being quite specific about the range of Fonterra products which it has temporarily suspended. Whole Milk Powder and Skim Milk Powder have not been suspended," said NZ Milk Products Managing Director Gary Romano.
Officials parachuted in
Meanwhile Prime Minister John Key said the government was completely focused on ensuring the safety of consumers and New Zealand's reputation for clean and safe food. He said it was too early to consider recriminations, despite government concerns about inconsistent and slow testing and disclosure by Fonterra. 
"Today is not the day for recriminations. Today is the day for consumers to have the best information," Key said.
Key said there would be two reviews once more detail was disclosed and exports had resumed, including one on Fonterra's actions and one on the government's regulatory settings and response. He said he was pleased so far with the response of the government's bureaucracies, but was pointed in not  praising Fonterra's actions and response.
He said officials had been placed into the offices of Fonterra and Nutricia to gain more information and ensure and 'all of government' response.
Cabinet had held an extended meeting on the issue on Monday and then dispatched Economic Development Minister Steven Joyce to Fonterra's offices in Auckland in the afternoon.
Joyce later told reporters a breakdown in Fonterra technology meant it had to do manual reconciliations of where the whey products had been distributed and where it was now. He also said he was disappointed that Fonterra's information had changed over the weekend about the extent of the Nutricia products affected. 
"It's certainly pretty frustrating. That's the most generous thing one could say," Joyce said.
Fonterra says sorry
Meanwhile, Fonterra CEO Theo Spierings held a news conference in Beijing and personally apologised to consumers and the government in China. 
"We really regret the distress and anxiety which this issue could have caused," he said.
"We totally understand there is concern by parents and other consumers around the world. Parents have the right to know that infant nutrition and other dairy products are harmless and safe."
Spierings reported he expected the Chinese suspension to be lifted within 48 hours and that 90% of the affected batches of products had been identified and secured.
Reuters reported Spierings as saying the pipe used at the Hautapu plant  was seldom used, so normal cleaning was not sufficient to sanitise it.
He defended the time it took to test and confirm the contamination.
"The supply chain for infant nutrition powder takes a long time, with many steps."
Voluntary recall
Later on Monday evening Nutricia announced a voluntary recall of two products that the Ministery of Primary Industries had earlier advised consumers not to use. Food Safety Minister Nikki Kaye had earlier told the post-cabinet news conference MPI was considering a forced recall.
"The recalled products are Karicare Stage 1 New Baby Infant Formula (from birth) and Karicare Gold+ Stage 2 Follow-on Formula (from 6 months)," Kaye said in a statement.
"We have been advised that Nutricia has voluntarily recalled the products to ensure potentially affected stock is off the shelves until there can be complete confidence as to whether or not these products are contaminated," she said.
(Updated with Fonterra, Key, Joyce, Kaye, Spierings quotes, NZ$ stabilising)