Bruce Wills wants to see 'collaboratively designed policy', and central govt paying for 90% of roading costs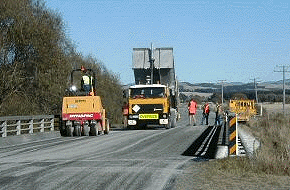 By Bruce Wills*

Given how controversial mining and 'fracking' seems to have become, I wanted to learn more about the oil business from the ground up.
From a health & safety perspective, the petroleum industry is impressive.
Equally so is Taranaki Regional Council's regulation of the industry.
The more I learn about hydraulic fracturing, or 'fracking,' the more questionable some of the claims against it become.
The technology promises to make us less dependent on imported fuels and in the long run, it could provide a means to transition to new fuel technologies.
I do not believe any credible person is proposing we go 'cold turkey' when it comes to petroleum. 
London's Mayor Boris Johnson, who wants to make it easier for New Zealanders to live and work in the UK, put his views on this matter more stridently.
Last year he wrote,
…the eco-warriors betray the mindset of people who cannot bear a piece of unadulterated good news. Beware this new technology, they wail. Do not tamper with the corsets of Gaia! Don't probe her loamy undergarments with so much as a finger — or else the goddess of the earth will erupt with seismic revenge. Dig out this shale gas, they warn, and our water will be poisoned and our children will be stunted and our cattle will be victims of terrible intestinal explosions.
If farmers were allowed to clone just one regional council it would have to be Taranaki.
Here is a region that has petroleum exploration, farming and a good environment too.
The comments of London's impressive Mayor and the equally impressive Taranaki Regional Council, remind us that local government elections fall in October.  
Not to let an opportunity slip by, Federated Farmers has produced a manifesto ready to support our members, farmers and interested members of the public.
It is designed to be used as a tool to gauge the promises voters will no doubt hear.
Since 2002, council rates have increased a staggering 97 percent; three times the rate of inflation.
More worrying, by 2022, they are expected to increase by a further 58 percent.
Rates are fundamental to any community as it funds infrastructure right through to social and cultural events.  Yet to meet the challenge of the 21st Century New Zealand, our preference is for councils' to uniformly target more of their rates to those who benefit from council services. I write this from an industry where 'user-pays' is the order of the day. 
We further suggest rates should be kept relative to inflation and with more transparency over how they are evaluated. This could be by highlighting properties and their rates contribution. This may also spark greater voter engagement because engagement is missing from the low turnouts associated with our local government elections.
Another thing our manifesto looks at is the regulatory performance of councils.
Local regulation can prevent farmers from farming properly or businesses from growing; literally making or breaking employment opportunities.
It is why being realistic, fair and equitable matters when councils design and implement local regulation.
There's little doubt collaboratively designed policy built off a platform of openness and trust provides a way forward. Indeed, freshwater collaborative planning will be embedded into the RMA, giving communities and landowners a greater say in planning what they want for their waterways. This spirit needs to be widened because we all have a stake in successful and sustainable districts, towns and cities. 
Yet one of the most essential services for farmers and the wider community is the nation's roads. For rural folk like me, all roads are nationally significant but government spending has not kept pace with roading cost inflation. Federated Farmers wants the Government's roading share increased from 50 to 90 percent, using revenue from vehicle registration, fuel taxes and licensing for roads. All of this would allow councils to reduce their local rates burden while being much fairer; as many road users are not local. 
While a second Auckland harbour crossing appeals, the $10 bln. pledged to fund that and an 'inner city rail loop,' does not.
We do not have public transport for goods so imagine what even ten percent of that sum would do for 'local roads,' where 72 percent of our merchandise exports are generated.
Things like an efficient roading network may not be sexy relative to a new sports complex but it is critical for jobs and opportunity. As is local regulation and the way our councils are funded. Like petroleum exploration, it needs policies to be based on facts and not innuendo.
This is where our manifesto slots into the mix. 
To get the farmer prescription for this year's local elections, simply go here ». 
Above all, make sure you vote.
-------------------------------------------------------------
Bruce Wills is the President of Federated Farmers. You can contact him here »