Rabobank reports a substantial contraction in local Chinese dairy supply, forcing it to import 27% more and affecting prices worldwide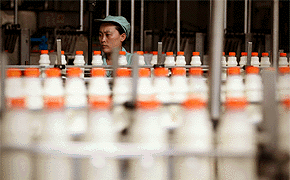 Content supplied by Rabobank

Faced with a local supply side crisis, China is mopping up huge quantities from the internationally traded market – squeezing out many other buyers – adjusting price movements across the global dairy complex.
However, with exportable supply growth likely to lag, China still on the hunt for increased volumes and pent up demand from sidelined buyers, price relief from these exceptionally high levels looks increasingly like a first half of 2014 proposition – and even then, most likely to play out in the second quarter.
Rabobank's recently-released Dairy Quarterly report, says that while international dairy prices peaked in April, prices remained exceptionally strong through the third quarter of 2013 – with forward pricing on the globalDairyTrade auction suggesting the dairy complex is amidst an unprecedented period of high pricing in terms of its level and duration.
It's the supply side ...
Rabobank director of Dairy Research New Zealand and Asia Hayley Moynihan says market tightness remains primarily supply side driven.
"While milk production in export regions moved back into expansion in July, improving local consumption and lack of stock has kept exports below prior year levels through recent months," Ms Moynihan says.
"Strong farm gate pricing and falling feed costs are likely to generate a solid increase in milk production in export regions in quarter four and into the new year."
especially in China
However, the biggest story of the second quarter of 2013 comes from China.
Amidst increasing evidence of a substantial contraction in local supply, China imported 27% more product than in the 12 months prior.
With China's supply crisis unlikely to be resolved quickly, Rabobank anticipates that Chinese buyers will continue to purchase strongly through the second half of 2013.
On the demand side, the Rabobank report highlights that consumers in many markets have faced rising retail prices for dairy, as the commodity market surge of the first half of 2013 is being passed down the supply chain.
Ms Moynihan says the cost of dairy has been rising in key EU markets (in some cases strongly), with prices also being "jacked up" in many Asian markets and Latin America.
Consumption headwinds
The US, where commodity prices have been high since Q3 2012, has been a notable exception.
"This is creating a modest headwind to consumption and will do so more in the next quarter, as price increases still being fed through in many markets," Ms Moynihan says.
"In the next 12 months we are likely to see improved conditions for consumers in OECD markets as economies continue to slowly rebuild. However, employment growth is expected to remain a slow affair, and at least in the EU, have to wait till 2014 to kick in at all."
Pricing prospects
Pricing over the next six months will be driven by the interplay of rising milk production, a delayed increase in exportable supply, and the vigour of Chinese buying, Ms Moynihan says.
"Most likely, the prospect of any significant softening in world prices has been delayed till 2014, and even then, quite possibly Q2," she says.
New Zealand exports will enter the seasonal high point through Q4 and are likely to exhibit modest growth year-on-year (around two per cent).
Export upside 'surprises'
The first half of 2014 will show stronger year-on-year growth as the high milk price and the assumption of more normal seasonal conditions reverse the decline in export tonnage evident in 2013. Ms Moynihan says,
"It is worth noting that, at this very high milk price level, there is the possibility that New Zealand farmers on average increase supplementary feed usage throughout the season and in particular to extend lactation through Q2 14 – this could result in milk production growth and export tonnages surprising to the upside".