New dairy season heading for a new record milk flow; peak due on October 25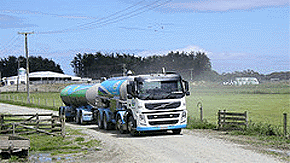 Fonterra now reports that the current season peak milk flow will likely be achieved on Friday, October 25 this year.
With the good weather across New Zealand over the past few months, pasture conditions have improved and milk production is strong coming into the peak of the season, up 5% on this time last year, they say.
Indications are that the current season will be a record, although as the season peak approaches, Fonterra says milk growth October has eased slightly to +3.5% on a daily basis.
The company has 26 milk processing plants across New Zealand and it reports that all are "running smoothly, managing the growth in milk supply".
Their new Darfield drier which was commissioned in August has provided additional processing capacity with total production capacity at that site now 6.6 million litres per day.
These details were released on the NZX in the Fonterra Update #14.
Other detail worth noting in that Report released today include that North Island milksolid collections are ahead 5.8% from the same period in the season last year, while South Island collections are up 4.4%.