Despite the best efforts of many and some undoubted successes, water quailty overall is expected to decline as intensive dairying expands, says Jan Wright in a major new report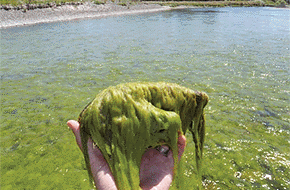 The following is the Conclusion in the Parliamentary Commissioner for the Environment's report released today on water quality.
-----------------------------------------------------------
"The health of our waters is the principal measure of how we live on the land"
Over recent years, water quality has become a subject of high public concern and vigorous debate in New Zealand.
This investigation has explored the relationship between land use and the two nutrient pollutants that cause water quality problems – nitrogen and phosphorus.
Most of the nitrogen that ends up in fresh water has its origin in animal urine.
Nitrogen is 'elusive'; it exists in highly soluble forms that readily leach through soil into groundwater. This makes it difficult to mitigate – to keep out of water.
Much of the phosphorus that ends up in water began as naturally occurring phosphorus in soil, and has been carried into water over many decades through erosion.
Phosphorus is 'sticky'; most of it is attached to soil and sediment. On the one hand, this makes it relatively easy to mitigate.
On the other hand, when it gets into water it accumulates in the sediment on riverbeds and lakebeds, although some will be flushed out in rapidly flowing rivers.
This report is based on results obtained by linking two models. The first, known as LURNZ, is a simulation model of land use change.
The second, known as CLUES, can be used to estimate the nutrients lost from land to fresh water at a catchment scale.
Over recent years, shifting commodity prices have led to many sheep/beef farms on relatively flat and fertile land being converted to dairy farms. At the same time, large areas of hill country sheep/beef land have been planted in forest, and some have been left to revert to unproductive scrubland.
The LURNZ model predicts that these trends will continue.
The amounts of nitrogen and phosphorus travelling off land into water depend to a large extent on how the land is used. For instance, in a heavily forested catchment, there are few animals producing nitrogen-rich urine and phosphorus-rich dung, and the tree roots hold the soil (and the phosphorus it contains) on the land. In catchments dominated by pasture, especially dairy pasture, nutrient loss rates are much higher.
Consequently, when land uses change, the amount of nitrogen and phosphorus that is lost from the land into water also changes.
The land use change results from LURNZ have been 'fed in' to the second model – CLUES – to estimate their impact on the tonnes of nitrogen and phosphorus being added every year into the streams, rivers, lakes, aquifers and estuaries in different regions of the country.
The modelling shows annual nitrogen loads on fresh water continuing to rise in virtually every region. Figure 7.1 shows how these increasing nitrogen loads correlate with the expansion of dairy farming. Canterbury, Southland, and to a lesser extent, Otago, stand out. Other regions have lesser increases, although some, such as Waikato and Manawatū, already have high nitrogen loads and existing water quality problems. The increases in nitrogen loads shown in Figure 7.1 are regional averages. In some catchments, they will be much greater, and in other catchments much smaller.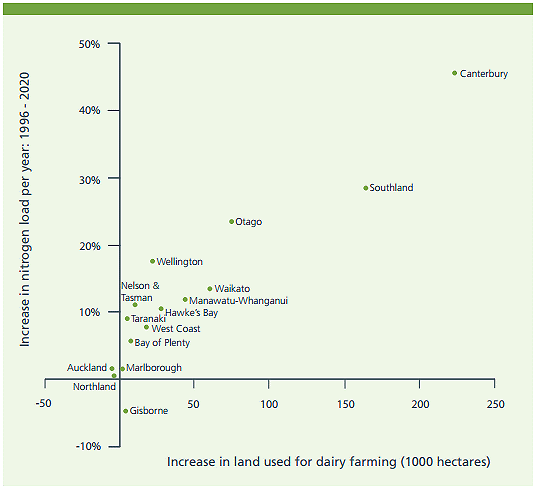 The modelling shows much smaller changes in the annual phosphorus loads. The only significant increases between 1996 and 2020 are in Canterbury and Southland: 9% and 10% respectively.
In some regions, annual phosphorus loads are decreasing.
Nevertheless, much of the phosphorus entering fresh water will continue to accumulate in sediment.
Because dairy farming has expanded so quickly and is known to have high nutrient loss rates, mitigation has become a major focus of changing farm practices.
The modelling for this report has been done assuming that by 2020 reductions in nutrient losses from mitigation will offset increases from more intensive use of the land. This assumption is optimistic. Mitigation may be able to 'hold the line' or even reduce nutrient losses in some cases.
But mitigation cannot offset the increase in nutrients that comes from large-scale change to more intensive land uses.
While new dairy farms converted from exotic forests in the central North Island may employ extensive mitigation techniques, the nutrient losses are still at least ten times higher than they were when the land was covered in trees.
In catchments where there has been large-scale land use change to dairy farming the gains made by increased mitigation are swamped.
Excessive levels of nitrogen and phosphorus in fresh water make it too fertile, leading to accelerated plant growth and algal blooms, degrading swimming and fishing spots, and damaging fresh water ecosystems. At very high levels, too much nitrogen is toxic to fish and other aquatic life.
While water quality is complex, the science has established clear relationships, and these are well understood and accepted.
Although much depends on natural factors like flow rate, water quality tends to be worst in areas where nutrient loads are highest.
It has been theorised that in some cases nitrogen loads are less important, because the growth of excessive plant growth could be controlled by focussing on managing phosphorus. This may be possible under the right conditions, but relies on many factors being in alignment.
Such an approach would not, for example, protect the many nitrogen-limited estuaries which are already especially vulnerable because they lie at the bottom of catchments.
The passage of time may reveal a different land use future to the one forecast by the modelling. If, for instance, dairy farming expands more slowly and forestry expands more quickly, then nitrogen and phosphorus loads will be lower than predicted.
But the opposite, if anything, appears to be the case.
Unfortunately, if we continue to see large-scale conversion of land to more intensive uses, it is difficult to see how water quality will not continue to decline in the next few years.
This is despite the best efforts of many and some undoubted successes.
Understanding the links between land use, on-farm practices and water quality is essential for developing policies that achieve good outcomes – healthy rivers, lakes, estuaries and aquifers.
Hopefully, this report has clarified and deepened that understanding.