Tropical rain and an earthquake put farmers on alert; Federated Farmers reminds that safety should not be compromised in the rush to get sorted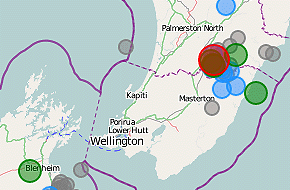 Content supplied by Federated Farmers
The 6.3 magnitude earthquake, which struck land near to Castlepoint and others near to Eketahuna, has farmers in the Wairarapa and Tararua checking on stock, staff and each other.
These earthquakes come as the remnants of former Tropical Cyclone June approach the upper North Island. 
"It's the best shake we've ever had since we moved to Castlepoint Station 15-years ago," says Anders Crofoot, Federated Farmers National Board member.
"Our house is a bit of a mess. The pantry has been emptied and we've got glass, food and ornaments on the ground. You could say we've been turned into a bit of an installation art form, but it's the sort of art we could really do without having.
"Right now, I am checking on our staff and heading out to survey the farm. Any damage will likely to be to older water lines, which can easily be severed in a shake like this. Since its summer the timing's not ideal," Mr Crofoot added.
Meanwhile, Northland's farmers are bracing themselves as the remnants of former tropical Cyclone June approach the region.
"We are expecting some pretty powerful winds in the morning so farmers should have moved stock into sheltered paddocks and basically battened down the farm hatches," says Roger Ludbrook, Federated Farmers Northland provincial president.
"If we end up seeing trees uprooted then there's a good chance power could be out in places too.  It is important not to risk life or limb so we urge farmers to stay safe until there's light and the winds have eased off.
"Even then, farmers need to exercise extreme caution when clearing large trees.  If its too large a job then please consult professional contractors.
"As it could be a rugged morning ahead, my hope is that farmers have heeded the MetService's excellent text and email alerts and have themselves, their families and staff prepped.
"If there is a silver lining, it is my hope that we'll get some widespread rain relief because things here are fairly dry.  That said, it is raining at my farm right now and that's a great sight to see," Mr Ludbrook concluded.