Unwanted 2000ha owned by Solid Energy on market after the company changes its mind over lignite mining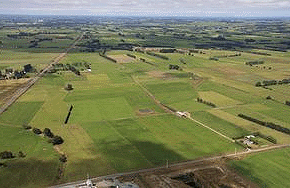 More than 2,000 hectares of prime Southland land, owned by state-owned coalminer Solid Energy, is on the market.
It is believed to be one of the largest offerings of New Zealand dairy land and is being sold by tender through PGG Wrightson Real Estate.
PGG Wrightson Real Estate general manager Peter Newbold said the block, made up of 10 farms, including three dairy farms, two dairy support or conversion farms, and four properties he would consider as dairy support farms and a deer unit, he said.
The farms, ranging from 33ha to 399ha, were within a 5-kilometre radius between Mataura and Gore, and were likely to be well-received by the market, he said.
"In the past few months, demand for dairy land has exceeded supply and this portfolio should create a positive response from farmers and investors looking to take advantage of the favourable current conditions for dairy products."
Open days for prospective purchasers are expected to be held between now and mid-March, with a tender closing date of April 3.
Solid Energy bought the properties to secure access to the large lignite coal resource in the district, but it no longer required the land.
------------------------------------------------
Farms For Sale: the most up-to-date and comprehensive listing of working farms in New Zealand, here »
------------------------------------------------