MPI lifts primary industries earnings forecast by 15.6% to NZ$36.5 bln for 2013/14 season; More than half of gains come from dairy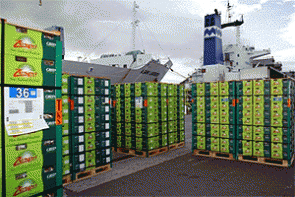 By Bernard Hickey
The Ministry for Primary Industries (MPI) has increased its official forecast for farm earnings for the current year to June 30, 2014 to NZ$36.5 billion, up 15.6% or NZ$4.9 billion from its June 2013 forecast.
But the official forecaster has forecast total earnings in the 2014/15 year to then fall 2.1% to NZ$35.7 billion, although this is up from its June 2013 forecast for 2014/15 of NZ$33.0 billion. All of the fall forecast for 2014/15 is due to dairy exports falling, due to an assumption prices ease back from near record highs this year.
Dairy industry earnings make up NZ$2.7 billion or more than half of the increase for 2013/14, with increased volumes to China and higher prices combining to lift total earnings by NZ$2.7 billion to NZ$16.7 billion. This would be up from NZ$13.4 billion in 2012/13. But MPI forecast dairy returns in the 2014/15 season of NZ$14.9 billion, down 10.6% from 2013/14 as supplies respond in America and Europe to higher prices and therefore drive prices down. It has however increased its forecast for 2014/15 from its June 2013 forecast.
"Growing demand for dairy products in emerging markets and limited milk supply from other major dairy exporters (particularly the United States and European Union) is enabling both value and volume gains for New Zealand dairy exporters," MPI said in its updated Situation and Outlook for Primary Industries (SOPI)
MPI increased its meat earnings forecast by 22.1% to NZ$6.6 billion. Lower beef production in Europe and America had boosted prices for New Zealand exports, driving the forecast the current year higher. It also increased its forecast for 2014/15 by 6% to NZ$7 billion.
Seafood and horticulture earnings' forecasts each rose 3.4% to a combined NZ$4.8 billion in the current year, up from NZ$4.5 billion the previous year. These earnings are forecast to rise to NZ$5.1 billion in 2014/15.

"The report shows that global demand for sheep meat has risen as China is consuming more, and demand is recovering in the United Kingdom," said Primary Industries Minister Nathan Guy.
MPI's forecast for forestry exports rose 19.1% to NZ$5.1 billion and is up from NZ$4.8 billion the previous year. Next year is forecast to be NZ$
"Forestry firms are expected to take advantage of higher international prices by increasing harvest volumes. This will lead to an additional growth in returns of $0.8 billion in 2013/14," Guy said.

"As a Government we've set a goal of doubling primary sector exports by 2025 (as a percentage of GDP) and this is another big step towards that. It will be important to build on this growth through the Primary Growth Partnership, encouraging irrigation and water storage, progressing free trade deals, new roads and RMA reform."
MPI said the major drivers were increased volumes of exports to China and increased export prices due to lower supplies in Europe and America.
The Government has pledged to target an increase in the export share of GDP from 30% to 40% by 2025, which would involve a doubling of total exports to NZ$120 billion and a doubling of farm exports to NZ$64 billion.
Reaction
Federated Farmers President Bruce Wills said New Zealand was on track to double primary exports to NZ$64 billion by 2025 "so long as we stick to a sensible and sustainable mix of policies."
"Between now and 2025, NZ$18 billion of this future growth is expected to come from water storage, irrigation and aquaculture. New Zealand does not lack water as in Australia just the means to store it in times of plenty, to use it in times of shortage," Wills said.
"Of that $18bn uplift, a fair proportion is expected to come from free trade agreements, like the Trans Pacific Partnership.  Lifting every farmer into the top quartile of performance will be worth $3 billion by 2025 while bringing Maori land into full production is estimated to be worth $8 billion generating 3,500 new jobs," he said.
"Hearing the MPI's latest forecast and presentations at the Riddet Institute's Agri-Food Summit I firmly believe we can double primary exports by 2025. If we can win trade access we may actually exceed it."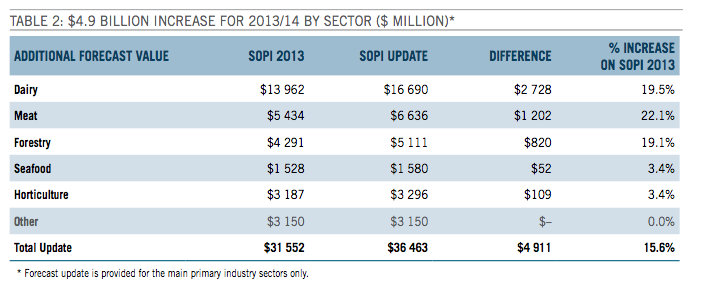 (Updated with table and reaction from Federated Farmers)