Negotiation, conciliation and pragmatism win the day in saga of the Horizons Regional Council's One Plan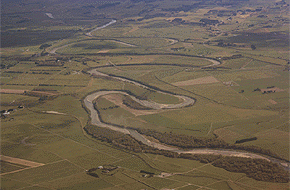 The Horizons Regional Council's One Plan, once described as "Farmageddon" and a farce that would bankrupt farmers, seems to have ridden out the storm.
It was predicted last year that implementing the plan would see farm incomes drop, costs rise and more than 30% of dairy farms in danger of becoming unviable.
Today those who were most vocal in opposition agree the results have been nowhere near as dire as predicted.
The good news comes as a result progressive talks following a meeting organised by dairy farmers in Tararua last May.
"It made the regional council sit up and see what they were up against if they implemented the plan to the full," Rabobank rural manager George Murdoch said today.
The regional council had become significantly more conciliatory and a "lot more pragmatic".
Palmerston North rural valuer Neil Hobson said originally people had been very "het up"  
The success had come from everybody involved talking to each other.
"We have achieved much with no loss of milk production and no loss of income to the community," the convenor of the meeting, Russell Philips, said.
  "After all the discussions, Horizons was far more collaborative and saw it could be far more successful with farmers buying into the process."
Philips also noted that other regional councils would take heed from Horizon's experience and be wary of being too aggressive.
"Looking at the environmental is all very well but the economic and social consequences have to be taken into account as well.
"There has to be a balance. Farmers spend a lot of time and money making improvements and don't lose sight of the fact they are environmentalists."
It had been feared that the plan would stymie the sale of dairy farms and for a time it was felt people had stopped looking and there was definitely reticence to enter the market
The clarity gained with the council meant that buyers could be assured of what would be required with a particular property so the buyers were back. Several sales had occurred in the Tatarua area towards the end of last year.
Real estate agents were now investigating what was required for the property under the plan before listing.
Most of the rural sales, however, were smaller blocks bought for amalgamation with adjoining land or as dairy support blocks.