Allan Barber reviews the difficulties AgResearch is having selling their restructure plans to staff, local communities and the breeder industry players who are most affected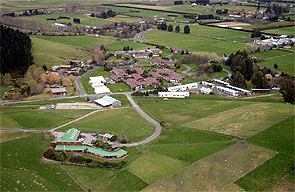 By Allan Barber
South Island ram breeders, predominantly Texel breeders who convened the meeting with AgResearch at Gore, are still determined to achieve a rethink of the Future Footprints Programme.
The FFP will lead to a restructure of AgResearch into two hubs at Lincoln and Grasslands near Palmerston North resulting in substantial disruption to staff located at Invermay near Dunedin and on the Ruakura campus in Hamilton.
It will also see head office relocating to Lincoln.
To an outside observer it is difficult to assess whether the programme will achieve all its objectives which sound very logical and well thought through strategically, although moving large numbers of valuable staff members won't happen without disruption and some loss of valuable intellectual capital.
The main questions are how much intellectual capital will refuse to relocate and whether the existing level of capability can be maintained or restored. 
At the time of the announcement last year, CEO Tom Richardson said "We will be modernising our science facilities, co-locating our capability wherever possible, and participating in large agriculture innovation hubs, all of which will generate greater returns across the pastoral sector.
"This is a once in a generation opportunity to put AgResearch in the best possible long-term position to do more quality science more effectively and efficiently, and to make a much bigger difference to the agricultural sector's productivity and profitability."
Justifying the choice of Grasslands and Lincoln, Richardson went on to say "These locations have the right ingredients to create successful innovation hubs: the presence of agriculture-focussed tertiary institutions, other large research organisations, industry bodies and private sector companies."
"We will focus activities at our Invermay (near Dunedin) and Ruakura (Hamilton) campuses on specific environmental and farm systems regional needs," he says.
Unfortunately the consultation process has gone down like a lead balloon, although negative response appears to have mostly been restricted to the far south, where farmers and breeders are up in arms at the removal of expertise in sheep science productivity from the part of the country where the most sheep are to be found.
The breeders who attended the meeting in Gore are adamant they were not consulted on the change, although AgResearch keeps insisting it has talked to 300 farmers. A phrase applied to the CRI recently suggests "a floppy doll has more spine and integrity."
Unfortunately, like most industrial relations 'consultations' it seems the proposal was virtually cast in stone from the moment it was released with only minimal changes being made after representations from affected parties.
AgResearch had successfully sold the FPP to Ministers like Stephen Joyce and Nathan Guy, who are naturally always looking for delivery of more from less. Therefore it was always unlikely the rearguard action by the Dunedin Mayor Dave Cull and ram breeders would save 85 jobs at Invermay.
The remit passed at Beef + Lamb's AGM which requested more consultation with North and South Island breeders on the removal of sheep and deer genetics research from Invermay has resulted in an email from AgResearch's Shared Services Business Manager to a Canterbury Perendale breeder. He has been asked to provide contact details for fellow breeders, so that AgResearch can broaden the scope of its consultation.
The email ends with a long list of the positives to be gained from relocation, presumably for information purposes, but also no doubt to put a positive spin on the consultation AgResearch is now required to initiate with the farmers who stand to benefit (or not as the case may be).
It may well turn out for the best and, assuming AgResearch has thought its programme out properly, the restructure may achieve all or most of the goals claimed for it. 
But what is clear is that AgResearch underestimated the need for consultation with staff and breeders who are the groups most affected by the decision.
There appears to have been little awareness of the inevitable reaction to a decision which clearly makes very good business sense in principle, but was never going to be popular.
-------------------------------------------------------------------------------------------------------------------------------------------
Farms For Sale: the most up-to-date and comprehensive listing of working farms in New Zealand, here »
-------------------------------------------------------------------------------------------------------------------------------------------
Here are some links for updated prices for
- lamb
- beef
- deer
- wool
---------------------------------------------------------------------------------------
Allan Barber is a commentator on agribusiness, especially the meat industry, and lives in the Matakana Wine Country where he runs a boutique B&B with his wife. You can contact him by email at allan@barberstrategic.co.nz or read his blog here ». This article first appeared at FW Plus and is used here with permission.