John Brosnan shows why it is important to deal professionally with employment issues, and where to get assistance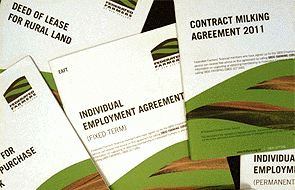 Not that long ago I read an article by James Houghton, Federated Farmers Waikato provincial president. It was an interesting article on the issues around getting the bottom 10% of performers in the dairy industry to lift their standards.
He commented on the difficulty of dealing with those who don't seem to grasp the importance of animal well-being making the very clear statement:
"our bottom dwellers are letting the industry down, and it is time for them to shape up or get out. We don't want you if you can't manage the basic requirement of treating your stock with respect and care."
He then added neglect for the environment and covered how hard it was to enforce clear standards for owners and managers within our employment law. 
These are comments I am sure that many farm employers wholeheartedly endorsed.
Naturally nothing is simple in sorting this issue out.
I say this because Federated Farmers have very good rural employment agreements that do actually set out clear standards employers can enforce for animal welfare.
Sadly I have had to use these provisions myself in assisting employers with the investigation and subsequent dismissals of staff who had mistreated livestock. So I know the expectations and provisions are there. 
Poor animal treatment is often something that, when witnessed, causes the employer to react fast and strongly.
In these situations the emotion often kicks in meaning that the required processes of employment law get missed as a shocked and angry employer reacts.  This then causes stressful issues when dealing with subsequent employment issues.
It is not only animal mistreatment or environmental mistreatment that can cause similar reactions.
Staff not moving irrigators as required or dealing with effluent correctly can also cause problems.
Drug usage is another cause.
Drugs are a major social issue in New Zealand and no less so in the rural workforce than anywhere else.
Another recent article decrying how dangerous quad bikes are also noted that, in five recent deaths on farms, two of the victims had illegal drugs in their systems.
Some days the average rural employer can feel it is all too hard.
They just want a worker who wants to do well and advance in a rural career. They don't want the issues, the worries and the hassles with all these issues that would compromise Mr Houghton's bottom 10%.
The best solution to this problem is to make sure that you have the right team around you.
Most farmers have a good team of rural professionals in their accountant, lawyer and bank manager already sorted to help with the financial and contractual sides of the business.
The other part that seems is needed is a good human resources advisor on your team. Our job is to help manage this type of stress for you whenever it occurs.
----------------------------------------------------------
John Brosnan is a business development advider at CooperAitken Ltd, accountants in Morrinsville and Matamata. You can contact him here