The Weekly Dairy Report: Milking year winds down and advisers suggest new year planning starts now.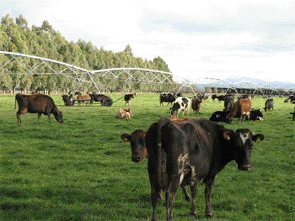 Recent wet weather in the south has now revealed itself in lower milk flows and some managers are reporting yearly production increases have been eroding away.
However nationally Fonterra reports April production is up 30% on last year, with northern regions increases contributing the most.
More cows are being dried off, dry cow therapy started, and most of those left are now being milked once a day.
Managers are being reminded calving cover calculations should be worked out now in feed budgets so the new seasons production is not compromised with feed shortages.
Auction prices fell again by 1.1% on increased volumes of product offered but analysts expect prices to bottom soon.
This autumn falloff in milk commodity prices saw Westland revise downwards it's predicted payout and Fonterra is expected to also trim it's forecast.
The ASB bank economists report the strong NZ dollar and a weak US currency coupled with increasing global milk supply will see next seasons milk price start at $7 and if the weather turns to El Nino, next year could be difficult for some.
The Oceania dairy factory at Glenavy is on track for a July start and will help ease the spring pressure on milk processing capacity in the central south island after many years of conversions.
The Temuka saleyards is also experiencing these signs of dairy expansion with large numbers of cull cows recently traded at this venue.
Solid Energy sold their parcel of 2000ha of dairy land in Southland at values that were described at the upper end of the market and to a wide range of buyers.