To give farmers the means and motivation to invest, you need nutrient indicators married to a realistic time horizon says Willy Leferink. Then you're talking about a virtuous cycle, he says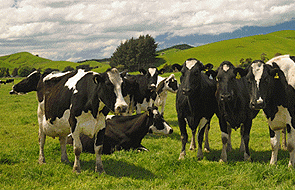 By Willy Leferink*

With regional plans increasingly looking to place limits on nutrients like nitrogen, an innovative breakthrough in the process of being commercialised illustrates how science and innovation could vastly improve agriculture's environmental footprint.
We seem to be locked into a high/low debate relating to farming and the environment.
To Federated Farmers that seems a linear way of looking at things because it denies the fantastic influence technology can and will play.
At Fieldays, I was privileged to be a judge and one of the technologies that took my eye was the PUER system, currently being validated by the University of Waikato.
This is no product endorsement but it can be loosely described as an effluent treatment plant for dairy farm washdown.  When you've got the herd awaiting milking you collect a heap of poo and urine. 
That's currently washed into storage ponds and later recycled back to pasture as liquid fertiliser.  While this is done well in many circumstances there's no margin for error.
Unlike councils, farmers cannot blame bad outcomes on a mechanical breakdown, weather or even carelessness.  Get it wrong and your talking Campbell Live, fines and possibly a criminal conviction.
What if, instead, you could treat that waste to a level where the liquids could be used for stock water or for dairy washdown again?  The leftover solids then used to fertilise pasture?
The system I saw may not be the only system in development but it is certainly one of the first to break cover. 
But we are seriously risking the development of these technologies if we race headlong into unrealistically hard nutrient limits.
Do that and it means farmers won't have the means or motivation to invest.  The lack of investment means innovators won't put the leg-work in so we enter a vicious cycle. We also run the risk of strangling hundreds of little communities who rely on the dairy dollar.
If instead you've got nutrient indicators married to a realistic time horizon then you're talking about a virtuous cycle.  You see every kilogram of nitrogen leaching to groundwater is not only just bad for the environment, but it's like farmers chucking $2 coins into a rubbish bin. 
While any innovation like this must be farm proven and is currently in the advanced pilot stage, it will demand significant investment from us to implement.
That the company behind PUER has been swamped since Fieldays shows how prepared farmers are to invest into things that will lower their farm environmental footprint
While this technology relates to just one aspect of our environmental footprint, it illustrates how others will eventually spread out from the milking platform and onto pasture. 
By working with science we will definitely get there so this system is merely the entrée.  Yet it is one that could build off the great work farmers are doing in catchments like Rotorua. 
It is also a solid reason why you should never say never..
----------------------------------------------------------------------
Willy Leferink is Federated Farmers Dairy Chairperson.