Federated Farmers wants to know what the 'substantial and identifiable benefit' is to approve the sale of the major and iconic sheep, beef and dairy station to overseas interests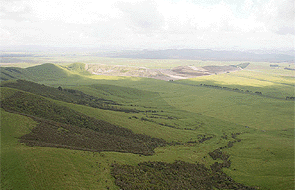 Content supplied by Federated Farmers

While Federated Farmers supports positive overseas investment into New Zealand's farming system, it is concerned the potential sale of Lochinver Station to Shanghai Pengxin Group Co. Limited, may not provide sufficient benefit to New Zealand.
"Since there is no requirement to publicly notify applications to the Overseas Investment Office, Federated Farmers is frankly uneasy about the potential sale of Lochinver Station to Shanghai Pengxin," says Dr William Rolleston, Federated Farmers President.
"New Zealand absolutely needs foreign investment but it has to be of benefit to the local and national economy. 
"That is why a 'substantial and identifiable benefit' test was incorporated into the overseas investment decision tree, further bolstered in 2012 by a High Court decision adding a "with and without" counterfactual test. 
"This was to ensure any investment, such as the one being proposed, has benefit over and above just making a farm work better.  Since Lochinver Station is highly regarded in farming circles there must be something very special and we are keen to know what that is.
"Given the location of these farms to Shanghai Pengxin's other landholdings, it will increase speculation that vertical integration by way of processing could be on the cards.
"In December 2010, the Government tightened the rules around foreign ownership by way of an "economic interests" factor in the Overseas Investment Office's consideration.  This allows ministers to consider whether New Zealand's economic interests are adequately "safeguarded and promoted" in the case of land aggregation or vertical integration.
"Considering Lochinver Station on its own is three times the land aggregation trigger level, let alone when added to the former CraFarms, this will be a test of the OIO's rules.
"Yet this proposed sale and the commentary around it, again highlights the need for research into what the extent of overseas investment in our farmland is. 
"Last year, Federated Farmers wrote to Ministers requesting research into the extent of overseas investment in farmland. We understand Ministers were concerned at the potential cost, but the economic price of getting foreign investment rules wrong outweighs this.
"Our counterparts at the National Farmers' Federation are already several steps ahead of us, with the Abbott Government working on a Farm Register.
"The reality is that here, no one knows how much of our farmland or housing is foreign owned.  To base critical economic policy decisions around a hunch is unacceptable.
"We also hope the OIO will be able to share what the 'substantial and identifiable benefit' to New Zealand is with the proposed overseas sale of Lochinver Station," Dr Rolleston concluded.