Chinese/Australian venture launches United Forestry to become 'Fonterra of Forestry' so 14,000 smaller foresters can market NZ$30 bln 'wall of wood'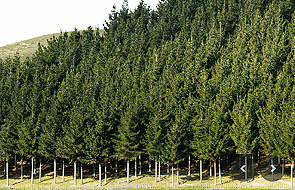 By Bernard Hickey
An joint venture between an Australian forestry company and a Chinese logistics group has announced plans to launch a 'Fonterra of forestry' to buy cutting rights and land from New Zealand's 14,000 smaller plantation forest owners as they prepare to harvest a NZ$30 billion 'wall of wood' from trees planted in the early 1990s.
Superpen, a joint venture between Australia's Pentarch and Chinese local government owned logistics group Xiangyu Group, said it had formed United Forestry Group to offer shares in the group and/or cash to smaller foresters who wanted better returns and help selling their logs.
United Forestry Group Director Malcolm McComb told a media briefing in Wellington the group eventually aimed to buy the cutting rights and/or land for up to 30,000 hectares of forests that were currently in plots up to 1,000 ha each. It would be focused on smaller forests in the lower half of the North Island and the upper half of the South Island, he said.
United estimated around 40% of New Zealand's forestry exports would come from these 14,000 smaller forests, many of which were owned by inexperienced foresters with plots of less than 50ha and often lacking the contacts, expertise and experience to find contractors, log buyers, shippers and financing.
"Not one of New Zealand's competitors in the international market is sourcing their logs from thousands and thousands of small individually owned forests with resulting high costs, inefficiencies and inevitable weak negotiating position," McComb said.
He compared the plight of small foresters with those of small sheep, beef and dairy farmers, who had often banded together into cooperatives to gain those efficiencies and negotiating power. About half a million hectares of land in New Zealand is expected to produce 12 million cubic metres of wood per year within a decade as the forests planted during a forestry boom in the early 1990s grow to maturity.
United aimed to give the benefits experienced by big forest owners to a consolidated group of smaller forest owners.
"There is no certainty at all that individual forest owners will achieve worthwhile profits through their own efforts if they have no experience about how to harvest and market an asset which they planted as an act of faith several decades earlier," McComb said.
"They may attempt to organise a contractor to do the felling, arrange transport to a port of a sawmill themselves, and try to negotiate a price through an agent. However, failure to manage the significant costs that go with felling a forest and getting it on board a ship, coupled with a weak negotiating position with purchasers, can have an adverse impact on the hoped-for return," he said.
Pentarch is an Australian company formed in the mid 1980s and is the largest exporter of logs from Australia with A$200 million a year in turnover. Xiangyu is a local government owned logistics group with connections to buyers, ports and shipping interests.
McComb said Xiangyu's ability to coordinate the logistics and finance at the Chinese end of the supply chain added synergy to the venture. He cited the risks of demurrage, where a ship carrying New Zealand logs could be held up outside a busy port, costing thousands of dollars a day in 'demurrage'. Xiangu was able to help avoid those costs, he said. Logs exported to China were often used for concrete boxing in construction, packaging and some high end furniture.
'Local processing and listing'
United Forestry was not however focused on only exporting raw logs to China and wanted to maximise the value of forests if that meant selling to local processors.
United would offer forest owners a range of options, including just buying the timber or offering shares in United. McComb said it would produce any necessary prospectuses for these share issues as a private company, and may eventually list on the stock market.
The Pentarch/Xiangyu venture owned 60% of United Forestry, while a further three stakes of 10% each were owned by New Zealand investors, with the rest from smaller directors.
The directors are McComb, who represents Pentarch, Li Xiongwen from Xiangyu, New Zealand forestry lawyer and former National Party President Geoff Thompson, forestry consultant and forest owner Hamish Levack and former Fletcher Challenge Forests executive Kelly Coghlan.
McComb declined to say how much the investors had invested in the company.
Green Party criticises plan
Green Forestry spokesman Steffan Browning welcomed the idea of a New Zealand forest products cooperative, but not if it was foreign controlled.
"The bulk of forests are already foreign owned, and this initiative is intent on wrapping up the rats and mice of New Zealand's remaining 14,000 small forests," Browning said.
"National is driving New Zealand to be a low value commodity producer with ownership in foreign hands, and this is just another step in that direction. Already the vast majority of the logs leaving New Zealand are foreign owned as are all our major wood processors,"  he said.
(Updated with Green Party criticism)